An interview with the Iranian Ambassador
By Messenger Staff
Thursday, February 5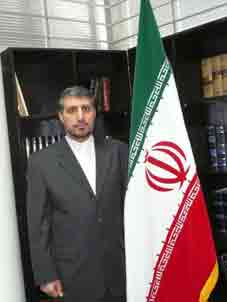 The
Messenger
has interviewed the Ambassador of the Islamic Republic of Iran to Georgia, Mojtaba Damirchiloo, on the occasion of the forthcoming 30th anniversary of the Iranian Revolution.
Q: This is 30th anniversary of the Iran Revolution. What have been its achievements?
A: On February 10, 1979, the Islamic Revolution took place in which the monarchy was abolished and a democratic system established under the leadership of Imam Homeini. An Islamic Republic was established in the country. Since then major changes in political, social, economic and cultural directions have been implemented.
From the political point of view the most important was the change in the system of government, through which the people came to power. The population of Iran has a right to exercise power over the political system through elections and express its attitude towards what is going on in the country. Today all positions, from regional to central power, are filled by election.
Iran has made great economic progress in these 30 years, in particular it has done a lot to ensure that it is not dependent on oil money alone. It has diversified its production and currently the share of oil production in Iranís revenue is only around 37%. Great progress has been made in the agricultural sector, which today produces 100 million tonnes of goods. Despite the fact that the Iranian population has doubled since the Revolution, being now 70 million, the Iranian economy is progressing.
A new feature of todayís Iran is that it is continually increasing the participation of women in different spheres of life. 60% of people applying to enter university are female. The share women take in cultural activities is very high.
We have also seen significant achievement in the science and technology field. Iran is carrying out scientific researches in nanotechnologies and nuclear energy. Just couple of days ago Iran launched a satellite into space using its own launching facilities. These things have been achieved against the background of international pressure, various sanctions, the war with Iraq and other external obstacles.
Q: Georgia and Iran have a long historic relationship. What is the situation between the two countries today?
A: At the beginning of the 20th century Iranís contacts with this region were cut but since the collapse of the Soviet Union these relationships have been restored. Iran recognized Georgiaís independence, one of the first countries to do so, on May 2, 1992, and established diplomatic relations with it. A new bilateral relationship has been established since then.
Iran wants to establish closer relationships with Georgia in different fields. Currently Iranian businessmen and companies are receiving more information about Georgian businesses and companies. Different kinds of business forums are organized; businessmen of both countries conduct dialogue more often. Iran is interested in investing in Georgia. Currently Iran is planning to start dairy production in Georgia and the production of building materials.
Iranian companies are taking steps to establish themselves in Georgia. The tendency of the Georgian-Iran relationship is such that trade relations are moving us towards establishing Iranian companies and their activities here in Georgia.
Q: Your Excellency, can you outline the Iranian position on the Turkish-initiated plan for a South Caucasus security platform?
A: Any sort of attempt to establish peace and stability in the region should be welcomed. But it is very important to know what sort of mechanism should be activated to establish stability.
All the countries of the region should be committed to the idea of establishing peace. In this regard Iran has one big advantage: very good relations with all the countries of the region, Armenia, Azerbaijan, Georgia, Russia and Turkey. This is a big advantage for Iran. Iran also has great potential to assist in developing all the countries of the region from the economic point of view, in particular through transportation.
Q: How about Iranís position on participation in the NABUCCO project?
A: As you probably know Iran is one of the countries richest in natural oil reserves. Many European countries rely on Iran to supply them with oil resources and many European countries consider Iran one of their reliable sources of energy supply. Iran is capable of satisfying the interests of consumers. Negotiations with some European countries are being carried on at a bilateral level and some agreements have already been achieved.
Europe is very much interested in having a reliable and constant energy supply and we continually receive suggestions that we should cooperate in various projects. NABUCCO is one of those. Very many experts are expressing their assurance that without involving Iran the NABUCCO project will not be economically viable. Experts are sure that without Iranís participation the project will not be profitable. Negotiations should be conducted between the producers, transit countries and consumers.
Q: Would the Ambassador like to convey a message to our readers?
A: I would like to convey my respects to the Georgian people who as well as Iranians have contributed a lot to the development of civilization.
The Messenger:
Thank you Your Excellency!