Alliance presents election code proposals
By Etuna Tsotniashvili
Thursday, February 5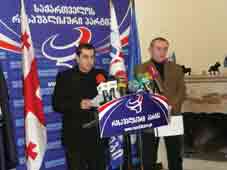 The newly-created alliance of Republicans and New Rights presented a schedule of amendments to the election code on February 4 which has already been sent to international organizations. According to New Rights member Mamuka Katsitadze, who presented the alliance's proposals jointly with Republican Davit Berdzenishvili, the amendments are designed to facilitate free, transparent and fair elections in Georgia.
There are seven major features of the schedule of amendments presented by the alliance. The first deals with the electoral system as such: a new electoral system in which 100 of the 150 Members of Parliament are elected proportionally and 50 by first-past-the-post is proposed. At present 75 are elected proportionally from party lists and 75 by majority in single member constituencies. It is also proposed that the election administration should be selected on the principle of a parity of representation, and that possible disputes should be settled by arbitration by members of international organizations and NGOs.
It is also proposed that a video eye control system be introduced to monitor ballot boxes and voter registration in every polling station, with the recordings being available to any interested party. The fifth proposal is for the creation of individual voter cards (like credit cards) which cannot be manipulated, rendering marking voters unnecessary. The sixth proposal is that there should be no closed election districts at military bases and police stations, only at detention centres. The seventh proposal concerns the monitoring of pre- election campaigning.
The alliance of New Rights and Republicans maintains that these proposals create a possible mode of cooperation with the ruling National Movement and should be welcomed by them, providing all international organizations, NGOs and other parties support their implementation. However Chair of the Georgian Parliament Davit Bakradze has responded by suggesting that real negotiations rather than ultimatums are what is necessary.
Bakradze says that as soon as the authorities came up with the initiative to change the election code negotiations took place between international organizations and the radical opposition. "I suggest that they place more accent on negotiations with international organizations in order to make changes in the election code, and I also suggest they pay less attention to making public statements which will not bring fruitful results," Bakradze said, addressing the Republicans and New Rights directly.