Russian President welcomes Georgian diaspora
By Temuri Kiguradze
Thursday, February 5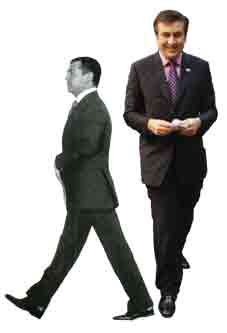 The Georgians Union session, held in Russia on February 4, was greeted by a welcome message by Russian leader Dmitry Medvedev.
In his message Medvedev noted that Russia has "always been faithful to the centuries-old traditions of friendship and good neighbourliness with the Georgian people, who are close to us." The Russian President also underlined that this meeting of the Georgian diaspora had a "particular meaning" at present, when Russian-Georgian relations are "passing serious tests."
"We honestly want to see Georgia as a stable, independent and truly democratic state. Ae state that lives in peace and security and has friendly relations with all countries," stated Dmitry Medvedev. "Close cultural and humanitarian relations are an integral part of our joint history. Direct people-to-people contacts and relations between civil society organizations play an important role in strengthening mutual understanding and confidence," he added.
The Georgian President has already commented on Medvedev's welcoming letter, stating that if Russia wants to restore relations with Georgia it has to start negotiations with "the elected Government of Georgia."
"Talks with Russia on any topic may be conducted only after the deoccupation of our territory," stated Mikheil Saakashvili, as quoted by Georgian media on February 4.
The Georgians Union session was designed to facilitate the normalization of Russian-Georgian relations and investigating the possibilities of restarting cooperation in the economic sphere. The President of the Georgians Union in Russia, Mikhail Khubutia, stated that the organization is appealing for the reintroduction of Georgian wine and other agricultural exports to the Russian market. They have been absent since 2006, when Russia put an embargo on Georgian wine and mineral water, complaining of "low quality" production. "Georgia lost more than USD 40 million after the embargo on Georgian wine," stated Khubutia.
Khubutia also touched on the problem of the lack of direct transportation links between Georgia and Russia. He stated that after the August war members of mixed families have to travel from Georgia to Russia and back through third countries, "which is exhausting and expensive," he added. The Union adopted a resolution appealing to the authorities of the two countries to start negotiations on the restorations of relations.
Commenting on the holding of the Congress, Georgian President Saakashvili stated that "At the convention of the so-called Union of Georgians in Russia only 191 people out of 310 invited actually came, while Russia asserts that over a million Georgians live in Russia. It's clear that this is not true. The Kremlin has failed to fill the smallest hall in Moscow and the Russian Prime Minister changed his mind and did not go to the event. Instead, he invited ten Georgians to the Kremlin," Saakashvili said, as quoted by Georgian TV station Rustavi 2.
"I want to thank all Georgian citizens of any ethnicity who have left Georgia and are now in Russia; they have acted with dignity. Just imagine, they [the Russian authorities] have failed to find anyone – other than rare exceptions – to confront their own country [Georgia], and this amounts to civil heroism in today's Russia," he said. Saakashvili also mentioned that a recent public survey had said that 78% of Georgians in Russia supported the Georgian Government. "That should be a message to some Georgian politicians," said the President.
In December the Russian daily newspaper, Kommersant, reported that President Saakashvili had attempted to establish contacts with the Russian authorities through intermediaries and met with Khubutia in Munich in November for this purpose. There has been no official confirmation of this from the Georgian authorities. Khubutia told journalists on February 4 that "while Russia can live without Georgia, it will be difficult for Georgia to live without Russia."