Baghapsh: "We have no close country except for Russia"
By Temuri Kiguradze
Friday, February 6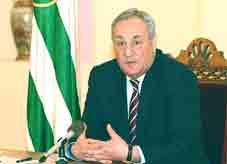 De facto President of Georgian breakaway region of Abkhazia Sergey Baghapsh states that he is not particularly interested countries other than Russia recognizing it.
"The most important thing is that the great Russian state recognized us," said Baghapsh in an interview with the Russian
Komsomolskaya Pravda
newspaper. "International recognition doesn't depend on the number of countries doing it. Western Sahara is recognized by 48 states, if I'm not mistaken, however the UN has not recognized it. The same situation exists with Northern Cyprus," said the Abkhazian de facto leader, adding that "if European countries want peace and stability in the Caucasus, they will have to recognize South Ossetia and Abkhazia."
Concerning Georgia Baghapsh noted that today's Georgia is a country "that a self-respecting person will not talk to," underlining however that he does not have a bad attitude towards the Georgian people. "My wife is Georgian, she's from the Gali region. She is even more separatist than I am. When Western journalists ask me about my attitude towards Georgians I say that they are a talented nation. God gave them everything – they sing, they dance, they can do a lot of other things, so stop sending those [Western] military instructors to them!"
Sergey Baghapsh states that Russia didn't force Abkhazia to give it permission to build military bases in the breakaway region. "Nobody is forcing us. This is our wish. There will be a base in Gudauta and a naval base will be developed in Ochamchire. There will be a serious number [of Russian servicemen] in Abkhazia at our request – I always underline that."
In his interview Baghapsh underlines that the future of Abkhazia is fully dependent on Russian support. He mentions that the de facto Government needs to pass several laws to make Abkhazia more attractive for Russians. "I prohibited the GAI [road patrol police] from stopping vehicles with Russian number plates. These people are here to rest. We will solve the problem of the border crossing. People on the Russian-Abkhazian border shouldn't be tortured by the checking procedures. And there will be one more novelty. Now it is prohibited for non-Abkhazian citizens to buy real estate in Abkhazia. We have to review this situation to give Russian citizens the chance to buy real estate without obtaining Abkhazian citizenship. We have no other way, we have no close country except for Russia," concluded Baghapsh.
The Russian Federation recognized the independence of breakaway Georgian regions Abkhazia and South Ossetia on August 26, after the Georgian-Russian war, explaining this was necessity for the "protection of peace and security in the South Caucasus." This decision was condemned by the international community. In late 2008 Russia and the two breakaway regions signed an agreement on "cooperation," according to which Russia will establish several military bases in Abkhazia and South Ossetia. Tbilisi evaluated the actions of Russia as an occupation of Georgian territory.
Georgian analyst Mamuka Areshidze, commenting on the situation in Abkhazia, stated that currently the Russians are taking "all the key positions in Abkhazia" including businesses and control of the coast. "The relations between Russians and Abkhazians are tense already. A large portion of the Abkhazian people already understands that they are is in a difficult situation now. This nation [Abkhazia] which has always been small in numbers could completely disappear now [replaced by Russians]. The relations between Ossetians and Russians are tense as well. There is a confrontation between [South Ossetian separatist leader] Kokoity and his competitors going on, which [the confrontation] is supported by Russia."