How UNDP has helped Shida Kartli
By Etuna Tsotniashvili
Friday, February 6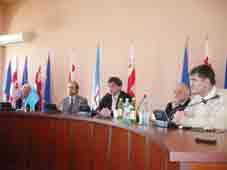 The United Nations Development Programme (UNDP) has discussed the first results of its early recovery initiative at a meeting organized at the office of the Shida Kartli Governor in Gori on February 5. Jointly with the local government UNDP presented the midterm results of its initiative 'Fostering Sustainable Transition and Early Recovery (FOSTER).'
The meeting was opened by Lado Vardzelashvili, Governor of Shida Kartli, who welcomed the guests and introduced to them the initial results of the initiative. He said that most of the damaged homes had already been reconstructed and some others repaired in different villages, the results already being noticeable. FOSTER has benefited some 10,000 people by rehabilitating 12 critical facilities, including school buildings and municipal offices and repairing drainage and water pipes.
Robert Watkins, the UNDP Resident Representative, stated that early recovery assistance can prevent the deterioration of national capacity, increase the self-reliance of affected people and ensure the smooth transition from humanitarian assistance to longer term recovery programmes. "Our strategy was to combine early recovery activities with regional development practices from our other initiatives, such as the programmes in Adjara, Kakheti and Kvemo Kartli," Watkins said, adding that this complex through flexible approach creates a solid basis for the sustainability of positive change in Shida Kartli.
UNDP has teamed up with Gori University to support rapid training programmes in construction professions such as building, plastering, painting and plumbing. Each course lasts for 20 days and unemployed local people are trained. "More than 100 unemployed were trained, which means that they are now better positioned in the labour market," Watkins said. "Moreover, this means that the region has a skilled and qualified labour force to support large scale rehabilitation activities," he added. At the meting 45 vocational education and training course participants were awarded certificates by Gori University representatives.
As part of this programme the Gender Resource Centre and Public Defender's Office were opened in Gori yesterday. Vice Speaker of the Georgian Parliament and Head of the Gender Equality Council Rusudan Kervalishvili and Georgian Public Defender Sozar Subari attended the opening ceremony. Subari said that it was not planned to open a Public Defender's representation in Shida Kartli as the region is pretty near Tbilisi, and if someone considered their rights had been violated they could have come to the central Tbilisi office. However after the August war they decided to open such a centre in the region as many peoples' rights were violated during the Russian aggression and especially those of children.
"People living here are in permanent danger, so we decided to open our office in Gori," Subari stated, claiming that no resident coming to the centre would leave without receiving attention and help. The Public Defender also expressed his great wish that there will not be many human rights violations in the region and said he sought close cooperation with the local authorities, although he added with a smile that violations of human rights by the local authorities, should they occur, would not be ignored and would be addressed openly.
As the Public Defender's representative in Shida Kartli Nino Dalakishvili told The Messenger the new centre would be at people's service and they will do their best to give assistance to locals. Three people will work in the office, the representatives of the Ombudsman, UNDP and UNICEF. On their side Kervalishvili and the newly-opened Gender Resource Centre will offer local women help with personal and domestic problems. Kervalishvili told The Messenger that the office will have a hotline which any person can use, anonymity being guaranteed. She hopes that women will not be shy and will share their problems. "We want to give women the maximum information on what rights they have. Our goal is for them to overcome their shyness and let us help them. After the conflict it became necessary to open such a centre here and we welcome all and hope that we will help them," Kervalishvili said.
Another major area of UNDP assistance to Shida Kartli is in agriculture. Families and farmers who lost their harvest, orchards and equipment, were provided with seeds, ploughs and other services by 2008 which will enable 1,200 farming families to sow winter wheat crops, restoring a vital source of income. "As a part of its assistance UNDP contributes to food security in the region. UNDP has supported winter wheat planting activities and helped cultivate 650 hectares of arable land. This restored jobs and income to more than 1,100 farmers and their families," Watkins said.
At the end of his speech Watkins also talked about future plans and said that UNDP intends to scale up its activities in 2009 and focus on restoring basic social services and opening up new opportunities for IDPs and host communities. "With a Euro 4.5 million contribution from the EU, UNDP launched an 18-month initiative primarily targeting the region of Shida Kartli and Mtskheta- Mtianeti and Samegrelo - the areas directly affected by the crisis. This new initiative supports the restoration of critical productive and social infrastructure, provides startup micro loans for small business activities and helps the Gori University set up an up-to-date Vocational Education Centre," Watkins concluded.