OSCE monitors detained, questioned, released
By Mzia Kupunia
Wednesday, February 11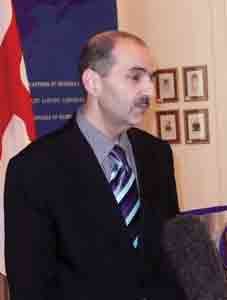 Two OSCE monitors were detained by the de facto South Ossetian militia early on Tuesday and released after two hours. According to the Georgian Ministry of Internal Affairs the monitors were "kidnapped" at 10:30 at the village of Adzvi in the Gori region, on the Georgian side of the administrative border with de facto South Ossetia, and taken to Tskhinvali.
About two hours after the incident, the Georgian Foreign Ministry reported the release of the monitors. According to Georgian officials the head of the Shida Kartli Police Department, Vladimer Jugheli, had led negotiations with Russian military and separatist regime representatives about releasing the monitors. There have been no reports of any kind of pressure being exerted on those detained.
The de facto South Ossetian authorities have denied that the monitors were "kidnapped." According to a spokesperson of the de facto South Ossetian Interior Ministry, the OSCE monitors were detained for crossing the "Georgian-Ossetian border" and were released shortly after their documents were checked. Georgian officials however have assessed the incident as "yet another provocation by the Tskhinvali proxy regime." Deputy Foreign Minister of Georgia Alexander Nalbandov said the case was alarming. "This was a very dangerous occurrence, because it involved representatives of an international organization," Nalbandov said.
Georgian MPs have also said that the incident should send an "alarm" to countries which in some way still support Russia. According to Georgian Parliament Speaker David Bakradze, the only way to stop such incidents is to start the deoccupation of the region and insist on full compliance with the terms of the six-point ceasefire document by the Russia side. "Otherwise, these territories will remain zones of criminality and present a danger not only to citizens of Georgia but representatives of international organizations," Bakradze said.
The detained OSCE representatives have not made any comment on the incident. The OSCE has said the problem is "now over." "We will continue looking thoroughly into the facts of this matter," a spokesperson for the OSCE mission was quoted by Civil.ge as saying.
The incident comes two days prior to the arrival in Georgia of Dora Bakoyannis, the Greek Foreign Minister and OSCE Chairperson-in-Office.