Tbilisi wants to demilitarize Abkhazia
By Temuri Kiguradze
Thursday, February 12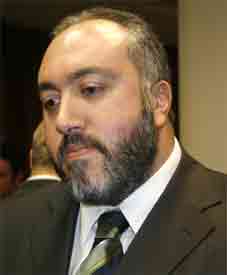 Georgian State Minister on Reintegration Temur Iakobashvili has announced an initiative by the Georgian Government to declare Abkhazia a demilitarized zone.
"The best guarantee against war is the absence of heavy weaponry in the region. The region should be controlled by international peacekeeping and police forces who will maintain peace and order there," stated Iakobashvili. He made this comment in reference to UN Secretary General Ban Ki-moon's recommendation to create "special temporary security zones" in Abkhazia. Commenting on Iakobashvili's statement, Georgian MP Paata Davitaia stated that he has "no illusions that Russia or Abkhazia will agree to this [demilitarization] proposition."
After the August war and later recognition of the Georgian separatist regions of Abkhazia and South Ossetia as 'independent states' by Moscow Russia announced it had signed "agreements on cooperation" with them. According to these agreements Russia will deploy almost 7,000 soldiers there. In January 2009 Moscow and Sokhumi announced that a naval base would be built in the Abkhazian town of Ochamchire and an air base in the town of Gudauta. The de facto Abkhazian authorities promised to "provide any kind of assistance" for Russian troops to make it "feel like home" in Abkhazia.
Georgian independent political expert Mamuka Areshidze, speaking to The Messenger, has stated that Russia "certainly will not agree" to the demilitarization of Abkhazia, however Georgia still needs to propose "peacekeeping projects like this" so as not to leave Russian arguments unchallenged in the international arena.
Meanwhile in the Kremlin, Russian President Dmitry Medvedev warned again of the necessity to control the weapons and military equipment provided to Georgia. He stated that Georgia is an "unstable country" and it is extremely important to strictly control the fulfilling of his order on the embargo of arms to Georgia and the withdrawal from military-technical cooperation with those countries who decide to assist Georgia in strengthening it army. Russia has described its actions in Georgia as the "only way keep peace and stability in the region." The Georgian Government has evaluated the events following the Russian-Georgian war as the "occupation" and "attempted annexation" of Georgian territory.
In August 2008, English expert Christopher Langton, who is now a member of the EU Russian-Georgian conflict fact finding mission, wrote an article concerning the August events with the headline "Georgia's dream is shattered, but it only has itself to blame" in which he said: "None of the actors in this drama can claim to be right. Georgia acted disproportionately and unnecessarily and is now worse off than it was before... Russia invaded the territory of a sovereign state and used disproportionate and sometimes indiscriminate force – particularly air power."
Speaking on February 10, Temur Iakobishvili said that the Georgian authorities did not want "Gazprom-financed experts" investigating the truth about the August war, referring to the some members of the EU Commission. "There are some people in this mission whose presence will be seriously questioned by the Georgian delegation," Iakobashvili said. "I do not want to specify whom I mean, but we are familiar with their 'heroic' deeds. I do not want to go further into detail, but we do not need Gazprom-financed experts if we want to find out the truth; sorry, but I cannot say more on this," the Minister said.