Borjomi in the Baltic States
Monday, February 16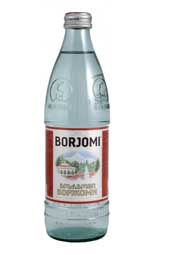 Opening of IDS/Borjomi Europe's Office in Vilnius
Since November 2008 GG&MW Co.N.V., the only producer of Georgian mineral water Borjomi, has been operating in the Baltic countries through its subsidiary company "IDS Borjomi – Europe", registered in Lithuania.
The Vilnius office covers all the Baltic countries - Lithuania, Latvia and Estonia - and some other European countries as well. The General Director of this office is Mr. Irakli Bokuchava.
"The opening of our representation office in Lithuania was part of our company's business strategy for 2009. The major and significant direction of the new strategy is the extension of the company's activities to Europe. This office shall promote and increase the sales of our products in existing markets and seek new markets.
"Currently, the Baltic market is rather hopeful for Borjomi products but great efforts must be made to sustain this tendency. Remote management is not an easy thing as the producer needs to have direct contact with consumers, be aware of consumer demand and meet these demands effectively and on time. So the Vilnius office will be our outpost in Europe," - stated Mr. Zaza Kikvadze, the General Director of GG&MW Co. N.V.
The IDS/Borjomi Europe office in Vilnius has begun work and accepted its first shipment in December, 2008. The office's functions include the import, distribution and marketing of Borjomi water in the Baltic region and the development of new markets in Central and Eastern Europe.
"Currently, the situation in the Baltic countries is in transition. The GG&MW Co.N.V. head office is negotiations with different distribution channels. Yes, we have had small interruptions in delivery but in a very short time we will recover all the empty spaces in the market and Lithuanian consumers will find Borjomi everywhere," said Mr. Zaza Kikvadze.
Borjomi is the famous Georgian mineral water. It was discovered in 1840 in Borjomi, Georgia. The GG&MW Co.N.V. was founded in 1995. Since 1997 GG&MW Co.N.V. has been the only producer of Borjomi. The Baltic countries are one of the biggest markets for the product.