NATO and OSCE discuss Georgia
By Mzia Kupunia
Friday, February 20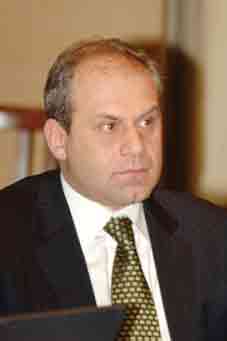 NATO Defence Ministers are holding a two-day informal summit in Krakow, Poland on February 19-20. This meeting is taking place ahead of the 60th jubilee NATO Ministerial scheduled for April. The Georgian delegation has already arrived in Krakow to participate in the NATO-Georgia Commission session on Friday, which is due to discuss the details of Georgia's NATO integration process.
The participants will also discuss the issue of the involvement of Georgian troops in NATO's peacekeeping mission in Afghanistan, the Georgian media has reported. Georgian officials have already confirmed that they will participate in the mission, however it is yet to be decided how many soldiers Georgia will send to Afghanistan. After the meeting with the Defence Ministers of NATO member and non-member states, the Georgian Defence Minister David Sikharulidze will meet the Secretary General of the Alliance, Jaap de Hoop Scheffer.
The Defence Ministers of the NATO member countries will discuss the issue of NATO transformation as well and the ways to combat Somalia pirates. The Ministers of Defence of Croatia and Albania will also take part in the summit.
Some analysts suggest the NATO-Georgia Commission meeting will not be a "big breakthrough." Political analyst Soso Tsiskarishvili said no major changes in respect of Georgia's NATO integration are expected until the relations of the USA and Russia under the new US administration will become clearer. "We should take into consideration the results of Medvedev and Obama's contacts," Tsiskarishvili told The Messenger.
Georgia will be one of the subjects of discussion in Vienna too, where special representative of the OSCE Goran Lennmarker will present a report about Georgia on Friday during the Winter Session of the OSCE Parliamentary Assembly, which also lasts from February 19-20. The session is being attended by 270 MPs from different OSCE member countries.
The OSCE Chairperson-in-Office, Greek Foreign Minister Dora Bakoyannis, addressed the opening session on Thursday morning. She said that building a new security architecture is her priority and that the Greek Presidency is ready to organize a summit at any level to start dialogue on "mutual security issues." One of the highlights of the session will be a special debate on Friday morning, about the initiatives by Russian President Dmitry Medvedev and French President Nicolas Sarkozy for new European security arrangements. The OSCE Parliamentarians will hear from Alexander Grushko, Deputy Minister of Foreign Affairs of the Russian Federation, Veronique Bujon-Barre, Deputy Director for Political and Security Affairs of the French Foreign Ministry and OSCE Parliamentary Assembly President Joao Soares, an OSCE Press Centre statement says.