BP and partners support the Georgian economy by establishing the Project Management College
Tuesday, February 24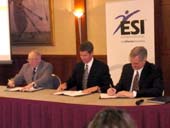 BP, on behalf of its oil and gas co-venturers, has initiated and is funding the establishment of the Project Management College (PMC) in Georgia, in partnership with the Free University.
"BP has operated in Georgia since 1996 and has spent hundreds of millions of dollars here alongside local Georgian companies. Effective project management - the skills, knowledge and ability to execute work on time, within budget - is a fundamental requirement for any successful business and partnership. Having recognised the long term business benefits that could be gained by developing a larger pool of local, talented project managers, we wanted to take practical action and do something about it", said Neil Dunn, BP Georgia General Manager at the Project Management College launch event, held on 23 February.
Through this initiative, both the private and public sectors in Georgia will have access to an integrated, comprehensive programme, focusing on the simultaneous goals of improving immediate project management performance and establishing long term project management capability in the country. To ensure high quality training, BP has contracted the world's leading project management training and solutions company, ESI International.
The Minister of Economic Development, Lasha Zhvania, expressed his support for the programme: " We look forward to seeing the programme achieve its full potential, creating a larger network of certified Project Managers in Georgia, and making a substantial impact on business profitability and the country's economy, ensuring the successful delivery of infrastructure projects and improving the overall investment climate in Georgia."
"Free University has always striven to provide opportunities for lifelong learning and continuous professional development to people willing to gain new knowledge and skills, no matter what occupation they come from or what stage of their lives they are at. We are proud to partner with BP in building up a strong cohort of Georgian project managers and thus contribute to the development of the country's private and public sectors," stated Simon Kadagidze, Rector of the Free University.
The Project Management Programme consists of seven modules: Managing Projects, Project Leadership, Management and Communication, Risk Management, Scheduling and Cost Control, Quality for Project Managers, Project Management Applications, and Project Management Professional (PMP) Exam Preparation. The PMC curriculum leads to two globally recognised certifications: the "Masters Certificate in Project Management", awarded by the George Washington University (GWU), and the "PM Professional" certificate, awarded by the Project Management Institute (PMI).
Initially the language of instruction will be English. The aim of the project is also to increase the capacity of the local training institution, meaning that in 2-3 years time local professionals will be trained by ESI International to deliver future classes in the Georgian language.