Prisoners should be educated, say Christian Democrats
By Sopo Datishvili
Thursday, February 26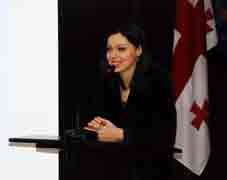 On February 24 the Christian Democrats presented their legislative initiative about the education of prisoners. They have prepared package of additional amendments to the existing legislation concerning this.
Party member Magda Anikashvili stated at a press conference on February 24 that the "law about prisoners" stipulates that suitable conditions for education must be created in prisons and everyone should obey this. "The draft is already prepared. We could present it straight to the Bureau meeting but as the new Minister of Penitentiary and Probation is already willing to cooperate with us, we have made up our mind to present the initiative to the public first," Anikashvili told journalists.
The Christian Democrats say that prison administrations should organize libraries containing educational literature and adapted versions of different national and international laws on execution. They also say that prisoners should be given the opportunity to receive higher education. The party will also ask Parliament to prolong the length of visits between prisoners and their family members. This will help them to preserve their family relationships and integrate back into society more easily after finishing their sentences.
Representative of the NGO Former Political Prisoners for Human Rights Nana Kakabadze is glad that Parliament is concerned with prisoners receiving an education and reintegrating into society. "A year and a half ago, when the visiting times were shortened, defenders of human rights tried to assure our Government that this was a big mistake, but in vain. They responded by saying that long visits were a hangover from the Soviet regime, but this wasn't so. In many democratic countries prisoners are even allowed out to visit their families for several days. It will be nice if our legislation also starts considering the future life of prisoners. We saw that after the abolition of long visits more families of detained people broke up. Such complete isolation will only arouse aggression in a man, and this will come back to society like a boomerang to harm it," she said.
Nana Kakabadze also told The Messenger that the necessity for education in prisons is very high, particularly among juvenile delinquents, but older people also need to have information about the world outside prison. "Their right to receive education does not disappear with their freedom", she added.
The new initiative of the Christian Democrats has annoyed the MP and head of Georgian Troupe Jondi Baghaturia, who says that the party has appropriated his old bill, entitled the "Humanization of Criminal Law." "In September 2008, we prepared two bills, the first concerning changes in the labour code and the other the same bill the Christian Democrats have just proposed. We prepared a package of changes in three areas: the "Imprisonment Code", "Criminal Law" and "Procedural Code of Criminal Law". We wanted to cooperate with society and arranged four public discussions on this subject. The last one was held in the "House of Free Opinion" not long ago."
Although Baghaturia is angry with his opposition colleagues and says it is "clumsy" of them to introduce this bill as their own, he will support it in Parliament.