Abkhazia objects to EU
By Temuri Kiguradze
Thursday, February 26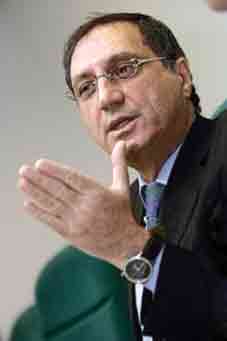 The Georgian breakaway region of Abkhazia has declared that the EU advising Belarus not to recognize Abkhazia and South Ossetia amounts to "blackmail."
De facto Abkhazian Foreign Minister Sergey Shamba has made a statement protesting against the "direct pressure of the EU on the sovereign state of Belarus." "The question of recognition is an internal affair of state. This was one of the basic principles used by EU countries when recognizing Kosovo. However none of the countries who were against Kosovo's recognition allowed themselves to indulge in such open blackmail. While stating its unanimous position on Abkhazia and South Ossetia the EU is divided between supporters and opponents of Kosovo independence," said Shamba on February 25, as quoted by the separatist Abkhazian Apsnypress news agency. The Georgian breakaway republic has also stated that the EU's statement may cause Abkhazia to "review the conditions of the EU's participation in the process of mediating peaceful dialogue between Georgian and Abkhazia and in the mechanisms for the prevention and investigation of incidents agreed at the recent meeting between the sides in Geneva."
Speaking on February 24, Czech Minister of Foreign Affairs Karel Schwarzenberg had stated that Belarus will be in a "very difficult situation" if it recognizes South Ossetia and Abkhazia." Schwarzenberg, whose country currently holds the rotating EU Presidency, said that if recognizing the Georgian breakaway regions Belarus "would be outside the European consensus." Belarus MPs have announced that the country will vote on the possibility of recognition of Georgian breakaway republics on April 2, 2009.
This statement is not the first criticism of the EU from the separatist authorities in Abkhazia. In 2008 they stated that they were not going to allow the EU Monitoring Mission to conduct observations on the territory of the breakaway republic. They connected this with EU support for the territorial integrity of Georgia.
"There was a time when we trusted the EU more than the UN, however now the position of Europe is totally unacceptable for us. The statements of EU representatives, saying that Abkhazia will never be recognized and that Russia should take back its decision to do so, are not hope-giving for us, and will not lead to anything constructive," stated Sergey Shamba on February 2. Shamba did however meet the Ambassador of the Czech Republic in Georgia during his recent visit to Sokhumi, despite the de facto authorities' attitude to the EU, but underlined that this meeting was merely an act of "politeness" by the de facto authorities.
"We are in favour of an international presence in Abkhazia, but only that of the UN. We're not in such a great need of this presence that we will make compromises which are against our interests. Now we have other ways to protect our security and pursue economic development," said Shamba, meaning the 'cooperation agreements' signed between Russia and Abkhazia and South Ossetia. These agreements were strongly condemned by the international community. The Georgian side evaluated them as "yet another proof of the annexation and occupation of Georgian territories by the Russian Federation." Under the agreements Russia will deploy about 4,000 soldiers in each of the breakaway republics, and Moscow has already announced about plans to build military, naval and air force bases in Abkhazia under the terms of the relevant agreement.
Russia recognized the independence of the Georgian provinces of Abkhazia and South Ossetia on August 26 2008, after the Russian-Georgian war. Russian leader Dmitry Medvedev explained this was the "only possible way" to ensure the security of those territories. Russia appealed to the international community to support its recognition but its actions were strongly condemned by the majority of countries and international organizations including the UN, EU and OSCE. The only country which followed Russia's lead was Nicaragua.