Turkish State Minister visits Georgia
By Mzia Kupunia
Thursday, February 26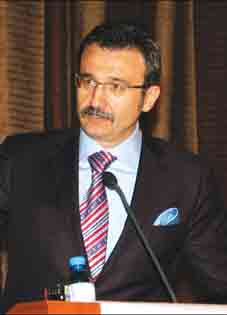 Turkey is not planning to impose a visa regime between Georgia and Turkey, its State Minister Kursad Tuzmen said on Tuesday. Speaking at a Business Forum taking place in the Tbilisi Marriott Hotel as part of his three day visit to Georgia, the Turkish Minister said the rumours about an alleged new visa regime between the two countries were false.
"The Sarpi customs office is not only a place connecting Georgia and Turkey, it also lies on the ancient Silk Road connecting Europe and Asia. The world should see clearly that the Silk Road is working and Turkey and Georgia help make international trade easier," Tuzmen said. The Turkish State Minister stated however that more control will be imposed for pedestrians crossing the border.
Georgian Prime Minister Nika Gilauri, who met Tuzmen on Tuesday, said that Turkey is Georgia's main trading partner, Georgia having its greatest export and import turnover with Turkey. The Prime Minister said Turkey is a source of investment in energy, tourism and other fields, and trade between the two counties is growing by about 46% annually. According to Gilauri Turkish investment in Georgia is worth about USD 1 billion.
The Georgian Prime Minister noted the importance of the Baku-Tbilisi-Ceyhan oil pipeline and the Baku-Tbilisi-Erzerum gas pipeline projects. "Today's business forum is very important in respect of building relations between Georgian and Turkish businessmen," Gilauri said.
The Turkish State Minister stated it is necessary for bilateral trade between Georgia and Turkey to reach USD 5 billion annually. Tuzmen called on Turkish businessmen to invest in Georgia. "Turkey is planning to participate in energy sector projects in Georgia," he noted.
After official meetings in Tbilisi, the Turkish Minister left for Batumi, where he held meetings with the head of the Adjara Autonomous Republic, Levan Varshalomidze, and Turkish businessmen.