EU-sponsored war commission visits Abkhazia
By Mzia Kupunia
Wednesday, March 4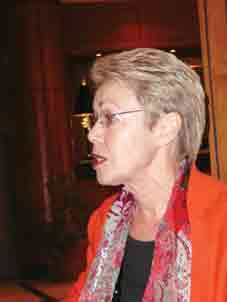 The head of the EU-funded war inquiry mission, Swiss diplomat Heidi Tagliavini, is visiting Abkhazia. She met with de facto Abkhazian President Sergey Baghapsh on Tuesday.
According to Russian media outlets, Baghapsh expressed his support for investigating the "tragic events of August" fairly and objectively. "The Abkhazian authorities warned the diplomats of UN and EU member countries several times that Georgia was getting ready for war. Sokhumi stated more than once that it was necessary to withdraw Georgian troops from the Upper Kodori Gorge and that Abkhazia was preparing to free this territory, and eventually this was accomplished," Baghapsh was quoted as saying. The de facto leader also noted that the Russian military presence in Abkhazia is a security guarantee. "As Georgia has more aggressive plans, we have asked Russia to increase the number of its troops in Abkhazia," Baghapsh said.
As part of the visit Tagliavini met the de facto Foreign Minster Sergey Shamba on March 2, the Abkhazian Information Agency Apsnypress reported. The de facto Foreign Minister expressed readiness to lead an open dialogue. "We have always been honest, as we have nothing to hide,"
Apsnypress
quoted Shamba as saying. According to the Georgian media, Shamba gave Tagliavini the Abkhazian side's information. "I informed Tagliavini about the August events, as well as their background and results. The Commission will present its final report by August and our data is necessary in order to compile this document," Interpressnews quoted Shamba as saying.
Georgian officials claimed on Tuesday that the de facto authorities had provided "forged data" to the head of the fact finding mission. The Chairman of the Tbilisi-backed Abkhazian Government in Exile, Malkhaz Akishbaia, said he will meet Tagliavini when she is back in Tbilisi. He told journalists he will present documents which objectively describe recent developments in the Gali region. "The Abkhaz separatists have presented Tagliavini with forged 'facts.' After she returns to Tbilisi I will meet her and tell her what is happening in the Gali region in reality," Akishbaia said on Tuesday.
Tagliavini is due to meet the de facto Vice President of Abkhazia Raul Khajimba and Chairman of the Security Council Stanislav Lakoba, as well as Garri Kupalba, the de facto Deputy Defence Minister, on Wednesday. Before leaving for Tbilisi on March 4 the head of the inquiry mission will also visit the Gali region, mostly populated by ethnic Georgians.
The EU launched its probe into the August war last December. The fact finding mission consists of military and legal experts. The mission is due to present its report on the Russian-Georgian conflict in late July. Tagliavini, who met Georgian and Russian officials in Tbilisi and Moscow before visiting the conflict region, said its aim is to study facts and cooperate with all parties.