New hope for damaged children
By Sopo Datishvili
Wednesday, March 4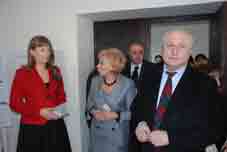 On March 3, the Children's Development Centre at Iashvili Children's Hospital was officially opened. The major aim of the centre is to provide young people with a service which addresses all aspects of their general development. Pediatricians and psychologists will treat children up to 18 years of age for their health, psychological and behavioural problems. The centre will provide IDP children with assistance free of charge.
The project is the result of cooperation between UNICEF, the Parliament of Georgia and the Ministry of Labour, Health and Social Issues. It has also been greatly supported by the Lithuanian Government.
As the Communications Officer of UNICEF, Maia Kurtsikidze, explained, the centre will also function as a training facility for professionals, pediatricians, social workers and teachers. It will also serve as a research facility for Tbilisi State Medical University.
Many doctors and medical professors attended the opening on March 3. First Lady of Georgia Sandra Elizabeth Roelofs, Minister of Health Care and Social Issues Sandro Kvitashvili and Vice Speaker of Parliament Gigi Tsereteli were invited as special guests at the opening ceremony.
The host of the new centre, the head of Iashvili Children's Hospital Professor Ketevan Nemsadze, commented on the major challenges facing the Children's Development Centre. "We will address our patients with a new vision. We will try to be as attentive as possible towards the problems observed during the period of observation. If necessary, our patients will be appointed special treatment. We want to change the pediatric vision of these patients," she said.
Ketevan Nemsadze thanked everyone involved in establishing the Children's Development Centre and added that they had gone through several processes before managing to officially launch the centre. "Everything started through cooperation between Parliament Vice Speaker Gigi Tsereteli and Giovanna Barberis, the UNICEF representative in Georgia. They formed an Alliance for Childhood Development which in its way contributed to forming the University Academic Group led by me," she explained.
Parliament Vice Speaker Gigi Tsereteli said that the opening of the centre was a present for every mother for March 3, Mother's Day. "I would like to thank UNICEF for its great contribution to this project. This organization and the Government of Lithuania have financially supported this project. I would also like to thank the professionals who brought this interesting idea to us. I'm sure that this centre will soon acquire regional importance," he added.
Sandra Elisabeth Roelofs, who is also the head of the Reproductive Health Coordination Council, highlighted the necessity for such centres in the country and said that as a mother herself she wanted to see multi profile treatment for children available in Georgia. "There are a lot of children who have undergone trauma for different reasons and need psychological assistance. This is good for IDP children as well, but not only those with such serious problems but others can also be examined here," she stated.
The Minister of Health Care and Social Issues, Sandro Kvitashvili, underlined the necessity of the involvement of both parents in the complex treatment of their children "If we look after our children properly in future we will have a better future then present and parents should think about this," he mentioned.
Like Kvitashvili, Giovanna Barberis, the UNICEF representative in Georgia, also highlighted the importance of care for children as a guarantee of a better future. "Every effort made for the development of children is an investment in the future as it contributes to a person expressing their full potential. UNICEF Georgia will continue to support the Government and Parliament in improving children's health."
According to data provided by UNICEF Georgia, out of the 250,000 children under five, at least 100 in every thousand are suffering from some kind of developmental delay or disorder. The great majority of these don't receive proper treatment for this. As the founders explained the Childrens Development Centre is superior to other clinics in the country due to its new approach to complex medical and psychological treatment. In friendly surroundings the children will be diagnosed attentively.