Georgian citizens to be able to get Russian visas
By Temuri Kiguradze
Wednesday, March 4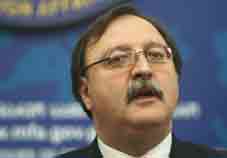 Georgia and Russia will resume issuing visas for each other's countries through the Swiss Embassy from March 5, as confirmed by representatives of the Foreign Ministries both of Georgia and Russia.
"The exchange of notes between Russian and Swiss diplomats in Moscow and between Georgian and Swiss diplomats in Tbilisi will be conducted on March 4. The next day the Embassies of Switzerland in Moscow and Tbilisi will open visa sections for the corresponding countries [Georgian in Moscow and Russian in Tbilisi] and we will resume the conduct of the diplomatic and consular activities," stated Igor Lyakin-Frolov, head of Russia's Foreign Ministry Press Service.
Speaking at a press conference in Tbilisi on March 3, Georgian Foreign Minister Grigol Vashadze confirmed this information but stated that "The Russian Federation will start issuing a very limited number of visas to Georgian citizens." Whilst announcing this news the Georgian Foreign Ministry didn't slow down its criticism of Russian policy. Commenting on the statement of US Defence Minster Robert Gates that "[Russian PM] Putin is going to restore the Russian Empire," Vashadze stated that " The invasion of Georgia, its military aggression, its attempts at a full occupation of Georgia which would allow Russia to establish its dominance over the entire South Caucasus and the gas war with Ukraine in January," indicated that the plan to restore the Empire is "already being fulfilled."
Former Georgian Ambassador to Russia Zurab Abashidze considers that the resumption of visa issuance by Russia is "just a technical decision which will be of small benefit to simple people." He underlined that Russian citizens have never had any problems obtaining permission to enter Georgia and this decision looks like a "small concession" made by the Russians. "I would underline the role of Switzerland in this process. They agreed to conduct the role of mediator despite the fact this creates many difficulties. However, I'll repeat that the opening of Russian representation in Tbilisi is no breakthrough in Georgian-Russian relations," stated Abashidze, speaking to The Messenger on March 3.
Georgia recalled its Ambassador from Russia in July 2008 after Moscow admitted the violation of Georgian airspace by Russian jet fighters. After the end of the August conflict Georgia completely severed diplomatic relations with Russia, closing its Embassy in Moscow and removing Russian diplomats from Tbilisi. Among the reasons for this decision was Russia's recognition of Georgia's breakaway regions of Abkhazia and South Ossetia as 'independent republics,' an action strongly protested against by Georgia and the international community.
After the closure of the Russian Embassy in Tbilisi Georgian citizens were refused visas for Russia from late 2008. Switzerland, as a neutral country, subsequently agreed to represent the interests of both countries on the other's territory.