Lithuanian Parliament Speaker visits Georgia
By Messenger Staff
Thursday, March 5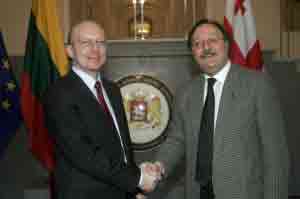 The Speaker of the Lithuanian Parliament, Arunas Valinskas, is visiting Georgia. On March 4 he met his Georgian counterpart David Bakradze.
At a joint press conference held after the meeting the Georgian Parliament Speaker said the sides discussed issues related to the Russian aggression in August, the consequences of the war and the situation in the occupied territories. Bakradze said Russia has failed to abide by the agreement about incident prevention reached at the last Geneva talks. "The latest incident has made it clear that the separatists and occupiers do not intend to fulfill the terms of the agreement," Bakradze noted, adding that "it is a test for Europe."
The Parliament Speakers discussed the upcoming EU Parliamentary Assembly due to be held in April. Bakradze said a new resolution should be adopted at the session, which will assess whether the terms of the previous resolution have been met or not. Bakradze said the Lithuanian side fully supported the Georgian position on this issue and added that "Lithuania is the European country most friendly to Georgia."
Earlier on Wednesday Valinskas paid his respects at the April 9 memorial and visited the Lithuanian bakery in Tbilisi with Minister of Refugees Koba Subeliani. Later the Lithuanian Parliament Speaker and representatives of Lithuanian development companies attended the construction business forum in Sheraton Metechi Palace. Valinskas said that Lithuanian businessmen would study the construction business environment in Georgia in order to decide whether to make investments in this sector. Valinskas noted he saw "good preconditions" for cooperation in this sphere.
As part of his visit the Lithuanian Parliament Speaker will meet President of Georgia Mikheil Saakashvili, Minister of Foreign Affairs Grigol Vashadze, Minister of Economic Development Lasha Zhvania and Patriarch Ilia II.