Georgia and Italy agree to forge close relationship
By Mzia Kupunia
Thursday, March 5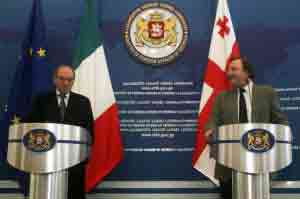 Georgian Foreign Minister Grigol Vashadze met the Italian Deputy Foreign Minister Senator Alfredo Mantica on Wednesday. The sides discussed a wide range of bilateral relations between Georgia and Italy, the latest developments in Georgia and Russian-Georgian relations, a statement by the Foreign Ministry of Georgia says. "The sides underlined the importance of Georgia as a country with a transit function and discussed opportunities for the realization of new energy projects," the statement reads.
The Ministers held a joint press conference after the meeting. "Relations between Italy and Georgia have always been friendly and these relations will, after this meeting, become even stronger," Vashadze said. "We are grateful for the support Italy gave Georgia during the tragic events last August," he added. The Italian Minister reiterated his country's support for Georgia. Speaking about the upcoming NATO Foreign Ministers' Summit, Mantica said Italy encourages Georgia's NATO aspirations. The Georgian Foreign Minister said Georgia will present its vision of how Georgia's cooperation with NATO should proceed at the Extraordinary NATO-Georgia Commission meeting on March 5. Vashadze noted the Georgian side had been pushing for holding this meeting promptly, however he declined to give the reasons why.
Vashadze commented on the position the new US administration will take towards Georgia at the NATO Foreign Ministers' Summit planned for Thursday in Brussels. He said the new administration will not change its attitude towards the country. "Their position will remain unchanged and the proof of this is the speech of Vice President of the US Joseph Biden in Munich," Vashadze told journalists.
The Georgian Foreign Minister also commented on the renewal of visa arrangements with Russia. He said that Ambassador of Switzerland Lorenzo Amberg and Deputy Foreign Minister Giga Bokeria will exchange notes as a sign of agreement on "the defence of the interests of Russia in Georgia by the Confederation of Switzerland." "A Russian section will open at the Swiss Embassy tomorrow," Vashadze said. "Visa issuing procedures will begin the day after tomorrow. According to Russian sources, the granting of visas will be restricted to those with private invitations," the Minister added. He said no work, tourist, or student visas would be granted.
Vashadze said Georgia has not told or suggested to Russia that it would restore diplomatic relations with it. Commenting on head of the Russian Duma Foreign Policy Committee Konstantin Kosachov's words that Russia is ready to resume direct dialogue with Georgia, Vashadze said Kosachov "got something wrong." "Russia should respect three fundamental things: Georgia's sovereignty, independence and territorial integrity. If we see that Russia has begun to regard Georgia as a sovereign state, and not as a sphere of special Russian privilege, nothing will hinder the restoration of Georgian-Russian diplomatic relations," Vashadze told journalists.
The Italian Deputy Foreign Minister will visit the Italian contingent of the EU Monitoring Mission during his trip to "see what their main difficulties and needs on the ground are."