Abkhazians don't want Gali residents to say they were born in Georgia
By Temuri Kiguradze
Thursday, March 5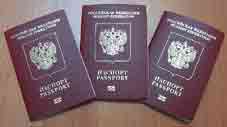 The de facto authorities of Georgian breakaway region Abkhazia have rejected about 3,000 Russian passports that were supposed to be distributed to the residents of the Abkhazian Gali region because of the "incorrect" places of birth listed therein. The separatist authorities don't want their "citizens" to indicate they were born in Georgia.
Sergey Shamba, the de facto Foreign Minister, says that the passports were withdrawn due to a "mechanical mistake" and will be redelivered to the population after the correction of the place of birth to "Abkhazia." The passports will be sent for correction to Moscow.
Speaking to
The Messenger
, Abkhazian de facto Deputy Foreign Minister Maxim Gvinjia stated that the incident in Gali is not an exception and many Abkhazians possess Russian passports which list "Georgia" as their place of birth. "This is just a mistake and the population has asked us to send the passports for correction," Gvinjia stated. He also denied Georgian media reports that Sergey Shamba had left for Moscow especially to protest about this.
Chairman of the Georgian Parliament Davit Bakradze has said that he doesn't know the exact reasons why the Russian Government indicated Georgia as the passport bearers' place of birth, however he considers that it may have been a product of the "subconscious instinct" which still forces Russians to admit that Abkhazia is part of Georgia, despite Russia's recognition of this breakaway region as 'independent' on August 26 2008. Bakradze also said that these passports should be saved.
The active passportization of the Gali region of Abkhazia, which is mostly populated by ethnic Georgians, began after the August war and the recognition of the breakaway region by Russia. Local residents have told journalists that they were given a choice to either accept Abkhazian "citizenship" and renounce their Georgian passports or leave the region. Now more than 90% of the population of the Georgian breakaway region has been granted Russian citizenship, including the so-called officials of the regions. The separatist law allows "double citizenship" with Russia only. Tbilisi evaluates the distribution of Russian IDs to Abkhazians and South Ossetians as "one more step towards the annexation of Georgian territories."
At the beginning of March Russian representatives announced the slowing down of the Russian passportization of the breakaway regions, explaining that Abkhazia and South Ossetia are already "recognized" countries and "each request for citizenship" will be reviewed under proper procedures. Before March anyone holding an outdated USSR passport could freely exchange it for a Russian one at numerous special agencies in Abkhazia and South Ossetia.