Joint border control opened at Sarpi
By Etuna Tsotniashvili
Friday, March 6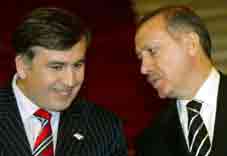 President of Georgia Mikheil Saakashvili and Turkish Prime Minister Recep Tayyip Erdogan opened the renovated border crossing point between Turkey and Georgia in Sarpi, Adjara Autonomous Republic, on March 5.
The Turkish PM stated that there should be no barriers between Georgia and Turkey as they have very close ties, something very important for both countries. "This is a very big day for both of us. I am glad that renovation has been carried out here. We want to simplify entry procedures for our people and I hope this will happen soon. There should not be any obstacles between us, we have brotherly relations and those ties are very important," the Turkish PM said at the opening ceremony.
President Saakashvili hailed Erdogan for his personal contribution to improving the ties between Georgia and Turkey and called him "my brother." "We have achieved much in recent years [in developing bilateral ties]; we have a free trade agreement, [visa] free border movement and a joint airport [in Batumi],Georgia has a free trade treaty with Turkey today. I want to wish success to the Prime Minister in his work to develop Turkey," Saakashvili added, describing Recep Tayyip Erdogan as an "exemplary" politician. "Making promises is an art of politicians, though few are able to keep them. Prime Minister Erdogan is one of the politicians who keeps his promises and I try to be like him," Saakashvili stated.
The President also spoke about the development of the city of Batumi. Saakashvili said that Batumi is not in deadlock any more; it is once again fulfilling its function as the most important centre on the Black Sea coast, as promised. "We have kept this promise by means of Turkish investments, and with the help of Georgian businessmen and international organizations. What we do, serves one aim – bringing our people closer together," Saakashvili stated.
Mikheil Saakashvili said that Georgia and Turkey are the first countries in the region to open a joint checkpoint. There will be joint customs control, joint inspection and administration.
"This must be the region where borders bring people closer," the President stated.
President Saakashvili said that Turkey had become Georgia's major trading partner, with a "fourfold trade turnover increase in recent years." Georgia's trade with Turkey was worth USD 1.2 billion in 2008, up 33.7% on 2007, according to the Georgian Statistics Department.