US and Russia press the button
By Ernest Petrosyan
Monday, March 9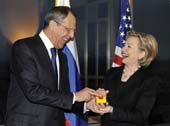 On March 7 US Secretary of State Hillary Clinton and Minister of Foreign Affairs of the Russian Federation Sergey Lavrov held their first meeting in Geneva. After long and multifaceted negotiations, in which issues related to Georgia were discussed among others, US Secretary of State Clinton presented a symbolic, red, palm-sized "reset button" to symbolize improved ties to her counterpart Sergey Lavrov.
The word "reset" was however mistranslated into the Russian for "overcharge." This incident provoked smiles and several jokes.
Clinton described the talks with Lavrov as a positive "fresh start" in resetting relations between the former Cold War foes. The Bush administration had increasingly strained and tensed this relationship, which according to Clinton has to be reset and transformed into cooperation and partnership.
"I would like to present you with a little gift that represents what President Obama and Vice President Biden and I have been saying, and that is: "We want to reset our relationship and so we will do it together," said Clinton, presenting Lavrov with a palm-sized yellow box with a red button. Clinton joked to Lavrov: "We worked hard to get the right Russian word. Do you think we got it? "You got it wrong," said Lavrov, smiling as the two pushed the reset button together before dinner at a Geneva hotel. He told Clinton the word "Peregruzka" meant "overcharge," to which Clinton replied: "We won't let you do that to us."
"We mean it and we look forward to it," Clinton said of "resetting" the relationship, a phrase that Joe Biden first used at a security conference in Munich. Lavrov said he would put the gift on his desk. Both diplomats echoed U.S. officials' comments about "resetting" the U.S.-Russian relationship. Lavrov responded that "together with Hillary, we did manage to press that red button."
US-Russian relations had remained tense until recently. There were many disagreements between the two countries on many issues, and the August 2008 aggression against Georgia caused a significant breach in the relations between the two countries. At the meeting both diplomats declared that the two nations would complete a new arms reduction treaty by the end of this year and find common ground on other major issues as well. Upbeat and often smiling, both Clinton and Lavrov said after two hours of talks that they had reached no new formal agreements yet, but both sides would develop a work plan for forging an agreement to reduce the two nations' formidable nuclear arsenals.
Speaking with
The Messenger
political analyst Zurab Abashidze stated that the mistranslation was an unconscious mistake and that the United Stated really has a strong will to improve these bilateral relations and transform them into dialogue and cooperation, the top priority of the Obama administration's foreign policy.