New unit to address agriculture reform
By Etuna Tsotniashvili
Monday, March 9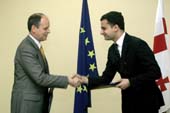 On March 6 The Georgian Ministry of Agriculture signed an agreement with the UN Development Programme to undertake a new initiative for the establishment of an effective and competent analytical unit within the Ministry. This new department will be created with the support of the United Nations Development Programme (UNDP).
At a cost of USD 57,000, a donation received from the Swedish International Development Agency (SIDA), this initiative will help the Ministry analyze statistical data on the status and perspectives of agriculture in the country and set up a unit which will develop a comprehensive reform strategy. Furthermore, UNDP will organize consultancies for Ministry officials and training for the newly-established unitís staff. UNDP will involve senior officials and advisors from the new EU member states, as well as qualified local consultants.
After the signing ceremony Bakur Kvezereli, Minister of Agriculture, and Robert Watkins, UNDP Resident Representative, expressed the wish for further cooperation. ďI believe itís very important for our donors to be working in the agriculture sector because itís actually a very important activity for Georgia. As I was just saying to the Minister, 55% of people working in Georgia are employed in agriculture. Of course many of them are working at a subsistence level, they just work for themselves, but a lot are starting to produce for the market inside Georgia and I hope will soon start developing the export market outside Georgia,Ē Watkins stated.
Watkins further stressed the importance of agricultural output. ďRight now it accounts for 16% of GDP in Georgia, itís a fairly substantial part of the economy. But I think itís most important because it involves so many people. Especially in a time of crisis such as weíre passing through right now, not just because of the post-conflict recovery period and the global financial crisis, people are going to have to be more reliant on their own ability to produce food,Ē he told
The Messenger
, adding that the unit would be able to advise the Minister on the policies he should be taking to further enhance the development of the agricultural sector and make it more responsive to changing needs and changing circumstances in the country.
Assistance to the Ministry of Agriculture is part of UNDPís wider initiative to support reforms in the public sector of Georgia through directly responding to urgent Government requests. In 2007 and 2008, UNDP had given its support to 25 strategic proposals by the 15 key public agencies.