Tbilisi rules out another war with Russia
By Temuri Kiguradze
Monday, March 9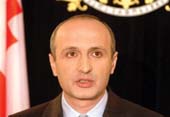 The possibility of a new Russian-Georgian war is almost "ruled out," stated Georgian President Mikheil Saakashvili, speaking on March 5 in Tbilisi.
"I practically rule out a new Russian military adventure, given the current international support for our country, but last year has shown that we need to be careful," said Saakashvili, speaking to the local journalists in the Adjara region.
The President's statement was supported by Georgian Interior Minister Vano Merabishvili who, in a televised interview on March 6, gave "three reasons" why Tbilisi now considers repeat Russian aggression will not happen.
"The first is the Georgia-US Charter on Strategic Partnership, which gives our country a serious security guarantee," said Merabishvili. "The second is the internal political situation in Russia, the deep crisis it is now in," added the Interior Minister, confirming that "the plans of the Russian military forces currently located in [the Georgian breakaway regions of] Abkhazia and South Ossetia do not give us a reason to assume that a large scale aggression is planned against Georgia in the near future." "Based on these three factors we can say that a Russian large scale military aggression against Georgia in the near future is practically ruled out," concluded Merabishvili, noting however that the "possibility of small provocations still exists."
A month ago Georgian MP Givi Targamadze warned the country that Russia planned to "overthrow" the current Georgian regime. According to him the
coup d'etat
would emerge from the promised opposition protest rallies demanding early Presidential and Parliamentary elections. The Georgian Interior Minister now says that Targamadze meant "a political threat" not "military aggression from Russia."
Speaking about the rising opposition to the Government, Merabishvili stated his doubts about the sources of finance of some of the oppositional parties, quoting the example of Igor Giorgadze's party, financed from Russia, several of whose members were arrested for "anti-state plotting" in 2007. However Merabishvili refused to give names or facts to support his statements, saying he was "unwilling to make political statements now." "As soon as we confirm the facts [of the suspicious financial sources] society will be informed. But at the same time I want to say that Georgia is a small country in which many people know everything, and society can see very well for itself which political group has what kind of funding and resources," said the Minster in the same interview with the Rustavi 2 channel. "At the same time I want to stress that it seems to me that an attempt to seed a perception of possible aggression in the near future is thrown-in information, a provocation which I think is thrown in by Russia and our other adversaries. The major aim of this is to trigger panic among citizens and keep them in a negative mood, and also to scare investors away from Georgia," Merabishvili said.
Several major opposition parties have agreed to launch protest rallies from April 9 2009. The main demand of the rallies will be the resignation of Mikheil Saakashvili and the calling of early Presidential elections. Leading independent Georgian political experts, speaking at a press conference in Tbilisi in late February, stated that both Russia and Georgia are interested in creating a spectre of permanent danger to solve internal problems, however experts consider that it is not likely either of them will conduct anything more serious than small provocations, especially in the region around the administrative borders of the separatist Georgian regions. "Russia knows very well that another war in Georgia will not help it overpower the economic crisis," noted expert Soso Tsiskarishvili at the press conference.