Shevardnadze assesses Presidential candidates
By Etuna Tsotniashvili
Tuesday, March 10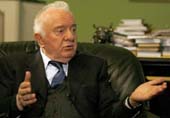 Ex-President of Georgia Eduard Shevardnadze has talked about two probable Presidential candidates in his interview with
Political Week
. However he has not named them, claiming he does not have a right to do so without their agreement.
Shevardnadze hinted that one of them has good contacts in Russia and the USA. He said that the President of Georgia should be no less than 60 years old and no more than 70 years old, as a person of this age has enough experience and skill.
Shevardnadze talked about candidates currently mooted by the opposition. He highlighted that people would not elect Nino Burjanadze, ex-Speaker of Parliament and now leader of Democratic Movement-United Georgia. He said Burjanadze's career has ended in failure and that if she had resigned when people were on hunger strike in her reception or during the mass protest rallies she would have a better chance now. Shevardnadze characterized Irakli Alasania, formerly Georgia's Ambassador to the UN, as a "clever politician," but said he thinks he is too young for the Presidency, although he would be good for the Prime Minister's post.
Talking about the Georgian opposition and their rallies planned for April 9 in front of Parliament, Shevardnadze said that the opposition is being too hasty in predicting Saakashvili's removal because he is unlikely to leave the post of President as a result of opposition pressure. "The situation is very tense in Georgia, all its citizens feel and know this," he said, but added that "the opposition should not pin everything on the notion that if peaceful demonstrations last 10-15 days or even a month Saakashvili will leave his post."
"The opposition is divided. Many of its leaders do not have enough experience and there are a lot of differences between them," Shevardnadze said. Shevardnadze recalled the November 7 events when the authorities cracked down on the massive protest rally and said that at that time opposition did not take the chance given in by the people, "they did not use the power of 200,000 people being at the rally and this was a mistake," he said. Shevardnadze also suggested that the opposition should have a concrete plan of what they are going to do in terms of snap elections and explain to people what will come next if Saakashvili goes. He stated that when he made the decision to resign during the Rose Revolution he asked Zurab Zhvania [the late PM] and Mikheil Saakashvili to visit him, and when he informed them of his decision they were confused and turned pale. "So the opposition must have a concrete plan," he said.
Shevardnadze also talked about the war and stressed that if Zhvania had been alive the war would not have happened. "If Zhvania had been alive we would not have gone into Tskhinvali," he said. Shevardnadze said that Zhvania had an analytical capacity and could draw objective conclusions. He would therefore never have given anyone permission to enter Tskhinvali. Shevardnadze added that the Georgian authorities became the victims of Russian provocation which involved the country in a large scale war.