Georgians queue for visas at former Russian Embassy
By Mzia Kupunia
Wednesday, March 11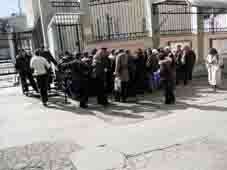 A long queue of people formed outside the Russian Embassy in Tbilisi on Tuesday, as the issuing of Russian visas resumed on Wednesday, more than six months after Tbilisi and Moscow broke off all diplomatic ties after the August war.
The Confederation of Helvetia (Switzerland) has agreed to defend Georgian citizens' interests in Russia, and Russian citizens' interests in Georgia. A special section has been created within the Embassy of Switzerland in Tbilisi, which is located in the former Russian Embassy building, for this purpose.
According to Georgian officials, only study and humanitarian visas will be given out. Citizens of Georgia who have invitations from 'closest relatives' with Russian permanent residence cards will also get Russian visas, but work and tourist visas will not be issued.
Most of the people standing in front of the former Russian Embassy had been waiting for their visas since the August war. Thirty-five-year old Paata Lagvilava has been living in Russia for seventeen years. He is married to a Russian woman. He said he came to visit his parents and siblings in Georgia on August 9 and has not been able to go back to his own family since then. "Several times during the last six months I came to Tbilisi from the village where my parents live to ask about visas. I do not know how long I will have to wait my turn to submit the documents, because there is a big queue. I am 77th in the list, which probably means I will be able to submit documents tomorrow or the day after," Lagvilava said. He noted that he and his Russian wife are not involved in politics. "We want to be together and that's why I am going," he said.
70-year-old pensioner Givi Mamatsashvili said he had been standing at the Russian Embassy "day and night." His two sons and wife live in Russia. "I usually visit them once a year. Last year I managed to go, this year it has become difficult to go to Russia. It has been two-three months since I received the invitation from my son," Mamatsashvili said. He noted it is very hard to get in to submit the documents. "I was unable to write my name on the list. Where is the list? I do not know. The lists are being compiled secretly at midnight and you have to be very adroit to get in. There is nobody who will arrange things here," Mamatsashvili said.
Unlike Mamatsashvili and Lagvilava, Maia Kharebava has no relatives in Russia. She said she used to chant in the choir of the Georgian church in St. Petersburg every 3 months and now is trying to get a "humanitarian" visa. "For three years I have been singing in the choir of the Georgian church. Now six months have passed and I still cannot get a visa," She said. Kharebava added that she had been coming to the Embassy since March 2. Like others, she also complained about the lists. "I come here every day, today I am 107th on the list, and yesterday I was 47th. The list drawn up on Friday has been torn up and a new one composed. Tomorrow I think we will have another new list and it will carry on like this," Kharebava added.
Some of those waiting at the Embassy still had to get their documents in order. Olga Panteleeva, a fifty-eight-year old ethnic Russian born in Georgia, was looking at the application form hanging on the board in front of the former Russian Embassy building. She said she had already had an invitation from her daughter, who has been living in Russia for sixteen years.
"I received an invitation to attend the funeral of my son-in-law, but I wasn't able to go because of the August war. Now I am trying to enter Russia to look after my grandchildren who have been left without a father. My daughter needs to work to support her family. She is looking forward to my arrival. At least I will be able to make her life a bit easier," Panteleeva said.