Students become professionals
By Messenger Staff
Wednesday, March 11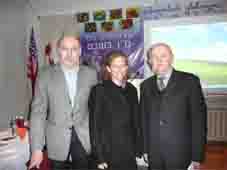 Georgian Trade Union of Professional Education Chairman Dennis Davitashvili and the Union of American Jews' Joint Representative in Georgia Sergo Vlasov are undertaking a project to train young people in different trades. Since last October it has trained 120 students in different professions such as insurance agent, advertising agent, clothes designer, cook, hotel receptionist and sales assistant.
A presentation for the graduates of the project was held at the Jewish House yesterday. Most of the students, in particular those who were trained in insurance, have already been hired by different companies. Advertising agencies also plan to employ the well-educated students.
Sergo Vlasov told The Messenger that even if the graduates do not find jobs immediately they will still have knowledge and professional skills they can use to find work. Christian Democrat MP Magda Anikashvili, attending the presentation, assessed highly the efforts of Dennis Davitashvili as a contribution to the country's future.