Saakashvili says European support has never been as strong as now
By Mzia Kupunia
Thursday, March 12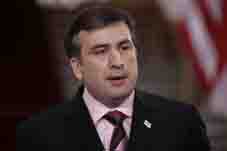 Maintaining peace and stability is the main task of the Government during the current world financial crisis, Georgian President Mikheil Saakaashvili said on Tuesday.
Speaking at the Sheraton Metechi Palace hotel at an award ceremony for small enterprises, Saakashvili outlined the priorities of the country and the importance of Georgia's integration with Europe. "Only Georgians are able to defeat Georgia and we have had such experience, however I am sure this will not happen now," Saakashvili said, adding that the priorities and the agenda of the Government have not changed.
"We have already tasted victory and realized how precious peace is. We will cope with all difficulties and I am sure they [difficulties] are temporary," the President said. "We will start building Georgia. This is my big ambition. During the bad weather we will wait for better weather in the world," Saakashvili told his Sheraton Metechi Palace audience.
Saakashvili touched upon the issue of international support for Georgia. He said Georgia has "never been so close to Europe as it is now." The President noted the support of the US new administration and that members of the new administration had held their first meetings with Georgian officials. The Georgian President also talked about the importance of Georgian-Turkish partnership.
Speaking to representatives of about 500 small and medium-sized businesses Saakashvili reiterated the Georgian Government's support for Georgian business and said everything should be done to maintain the stability of the state apparatus. He also said that the state's interference in regulating business and economics should be minimal.
Saakashvili said Georgia will be able to counter the effects of the world economic crisis if it "acts wisely" and attracts investments. He said that although Georgia has huge support from international partners it needs investments. Saakashvili noted that members of the Government are currently making visits to foreign countries for "economic diplomacy" purposes. The President noted that despite the Russian aggression last year and "two unneeded elections" Georgia was able to maintain its "strong position." "The Georgian state is based on the unity and responsibility of Georgian society," Saakashvili stated.
The same day Saakashvili met three widows of the soldiers killed during the August War. Saakashvili said at the meeting in his Avlabari residence that Russia was intending to take Tbilisi. He said moving towards Tbilisi was Russian Prime Minister Putin's "eventual goal."
"We want peace, but it needs to be protected," Saakashvili noted. "Georgia will never tolerate what our enemy has done on our territory," he added. He said Georgia should finish the work that the soldiers who died during the Russian-Georgian conflict had begun as a memorial to them.