Russian troops to stay in South Ossetia for a century
By Temuri Kiguradze
Thursday, March 12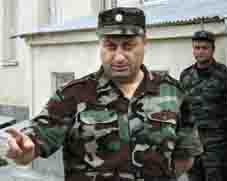 Followingr the announcement that Russia will construct military bases in South Ossetia, its de facto leader Eduard Kokoity declares that he will lease Russia the land they will be built on for 99 years.
Russian news agency Interfax quotes Kokoity as saying that the land will be "given to Russian border guards located in South Ossetia and for the building of Russian military bases." Kokoity's project involves leasing several areas in South Ossetia to Russian Army for a period of "at least 99 years." The de facto authorities claim that this project fulfils part of the agreement "on cooperation" signed between Russia and the two separatist Georgian regions several months ago.
Interfax notes that two areas of 4.2 and 5 hectares have already been set aside for Russian troops. They will house Russian security service posts and dwellings for Russian soldiers, and are located close to the border with Russia, near the South Ossetian town of Java.
These bases are part of a Russian plan to deploy about 4,000 soldiers in each of Georgian breakaway regions. Such actions are considered by Russia the "only way to provide security for the local population." The Abkhazian separatist leadership has already agreed to hand over the former Soviet naval base in Ochamchire and military airport in Gudauta for modernization and eventual utilization by Russian forces.
"The development of our bases in Abkhazia and South Ossetia will not end in 2009. We have to prepare carefully. 2009 will be just the first stage in the development of the bases," stated Deputy Chief of the Russian Army Headquarters Anatoly Nogovitsyn in October 2008. He noted that the deployment of additional troops meant more than the previously announced 7,400 soldiers may be permanently stationed in those regions. "And that's another step [in this development]," stated the General.
On February 7 the US State Department expressed its "regret that the Russian Federation has expressed the intention to establish bases on the territory of Georgia, contrary to the spirit and the letter of Russia's existing commitments." The statement urged Russia to "respect Georgia's sovereignty and territorial integrity and facilitate stability in the region through the fulfilment of its commitments and participation in the Geneva Process." Responding to this statement, Russian officials have ruled out the possibility of revisiting their plans to build military bases in the de facto republics of South Ossetia and Abkhazia. "Russia's decision to recognize the independence of these two states and create small military bases there in order to rule out Georgia's next, fifth or sixth attempt to use military force there, is irrevocable," Sergey Ivanov, Russia's Vice-Premier, told journalists after a meeting with US Vice-President Joe Biden in Munich.
Russia recognized the independence of Abkhazia and South Ossetia on August 26, after the five day war with Georgia. Tbilisi has evaluated this recognition and the establishment the military bases in these areas as the "occupation and annexation of Georgian territories."