The most equal companies receive awards
By Inna Egieva
Friday, March 13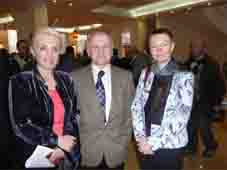 On March 11 at the D Plaza hotel the official Gender Equality Awards ceremony for companies was held. The title and slogan of the event was "Best Gender Equal." This is the third such annual awards ceremony held in Georgia, its aim being to support women's rights and help society understand that women and men are equal.
The event was opened by Deputy Parliament Speaker and head of the Council of Gender Equality Rusudan Kervalishvili and the President of the Georgian Employers Association Elguja Meladze. Representatives of the UN, businessmen, representatives of nongovernmental organizations and members of the Parliament attended.
The main award category was for "the company with the best record for promoting gender equality." Goodwill hypermarket, 55% of whose employees are women, won this award. Other awards were won by Uni Group (best business support for this project), Radio Kommersant (best media support for this project) and Imeri (for having the greatest percentage of female staff – more than 90%). The model agency One for Two gave its own additional prize to the award winners, whose women employees will now be able to become clients of this agency for 1 year at a 20 % discount.
The event was closed by the German Ambassador to Georgia H.E. Patricia Flor, who some years ago chaired the UN Commission on the Status of Women. She said that "when I heard about this programme and received an invitation I understood that I must be here today. This issue is very familiar for me, I believe and hope that this project will help Georgian people understand that everyone is equal."
The award ceremony formed part of the Gender and Politics project run by the UN Development Programme and the Georgian Parliament with the economic support of the Swiss International Development Agency. The project aims to increase the involvement of women in politics and decision making and in the political process generally.