Baghapsh criticizes EU
By Mzia Kupunia
Friday, March 20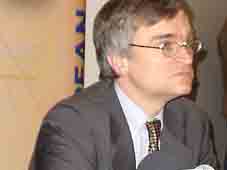 EU special envoy to the South Caucasus Peter Semneby visited separatist Abkhazia on March 18 and met the de facto President of Abkhazia Sergey Baghapsh and the de facto Prime Minister and Foreign Minister of the breakaway region.
During the meeting with Semneby the separatist leader slammed the EU for being biased in favour of Georgia. He also accused the EU authorities of "having double standards." However, he said Abkhazia is ready to cooperate with the EU. "If there is a will to work with us, we are ready to talk and solve many issues. We have never felt ourselves set apart from Europe, the rest of the world and international law. We, just like you and all other nations, should live within the norms of international law," Abkhazian news agency Apsnypress quoted Baghapsh as saying.
Peter Semneby stressed the importance of developing a number of humanitarian and other social-economic projects. He said the EU is ready to cooperate with the Abkhaz de facto administration in various important fields. Semneby noted that the different opinions of the EU and Abkhazia about the status of Abkhazia should not become a deterrent to developing projects that are in the interests of both sides. The de facto Abkhazian leader agreed that it is important to separate political and non-political issues, however Baghapsh added that "even issues of the humanitarian aid are being politicized now." He said that the EU is demonstrating only verbal, not practical readiness to cooperate in the humanitarian sphere.
Baghapsh stated at the meeting that Abkhazia is discussing whether or not to continue participating in the Geneva talks, because "we are becoming more and more sure that this process has no prospects." Interfax news agency reported that after the meeting with de facto Abkhazian leader, Semneby said that the EU will not recognize the sovereignty of Abkhazia but is ready to render its assistance in humanitarian project implementation.
Speaking to journalists, Semneby commented on Baghapsh's claim about de facto Abkhazian citizens being unable to get visas to the EU. Semneby said that he wants specific information on the problems citizens of Abkhazia face. However, Semneby noted that visa procedures might be related to some formal difficulties and to some problems that must be resolved, Apsnypress reported.
Georgian officials say that the European Union and the whole international community supports Georgia's territorial integrity. The Chairman of the Temporary Parliamentary Commission on Territorial Integrity Issues, Shota Malashkhia, has said that the EU and EC as well as the UN have called on Russia to take back its decision to recognize Abkhazia and South Ossetia as 'independent states.' "Russia must meet its commitments and withdraw its troops from the territories of Georgia it has occupied. We will see what the de facto authorities have to say after the Russians pull their troops out of Georgia's breakaway regions," Malashkhia told The Messenger.