Washington has new representative in Eurasia
By Temuri Kiguradze
Friday, March 20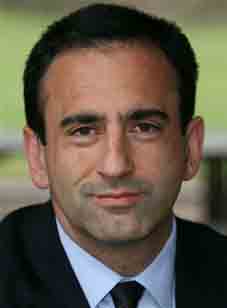 The US will have a new representative in Eurasia. Philip H. Gordon, a scholar at the Brookings Institution, has been nominated to replace current Assistant Secretary of State for European and Eurasian Affairs Daniel Fried.
Gordon's candidature was presented on March 11 and awaits formal approval by the US Senate. Gordon was President Obama's foreign policy advisor during his Presidential campaign and served as Director for European Affairs at the National Security Council under President Bill Clinton.
Phillip Gordon is known for his open support for Georgia. Back in 2005, while travelling in Georgia, he hailed the Georgian Rose Revolution and called it "a source of great inspiration" for other countries who are willing "to refuse to accept a deeply unsatisfactory status quo" in their own states. Gordon appealed for the West to help and protect the new Georgian regime. "The legacy of that revolution hangs in the balance. It would be a tragedy if Europeans and Americans allowed their own distractions and domestic politics to prevent them from helping to ensure democracy and stability in a region where the stakes are so high," wrote Gordon in an article entitled "Georgia: Don't Let the Rose revolution Wilt." In the same article he underlined the important role of the US in Georgia's democratic development "The United States must also play a critical role in helping to secure Georgia's future, especially if its European allies fail to step up," wrote Gordon.
The nominee for Assistant Secretary of State also appealed for the support of Georgia's NATO aspirations at the Bucharest Summit of April 2008, at which Georgia sought a NATO Membership Action Plan (MAP) but was refused one. Gordon told the Senate Committee on Foreign Relations that Georgia should be given a Membership Action Plan at the upcoming NATO summit. "While Russian concerns should obviously be taken into account in any discussions on European security, Moscow cannot have a veto on the choices of neighbouring democratic governments. NATO enlargement is not and has never been a threat to Russia, which should understand that it can benefit from democracy, stability, and prosperity in Eastern Europe and the Caucasus," he said. "Russia's opposition, then, is perhaps a further reason to act on MAP for Georgia and Ukraine at Bucharest rather than waiting."
"I think he brings tremendous strength to the position," said James Goldgeier, a senior official at the US Council on Foreign Relations, as quoted by the EurasiaNet news agency. Goldgeier also drew attention to the close friendship between Gordon and President Barrack Obama. "He was involved in [Obama's Presidential] campaign from the beginning, so he knows everyone involved in the campaign, he knows what the President's priorities are and so he can step into this quite confident that he knows what he's supposed to do in terms of carrying out the President's agenda," he said.
Current US representative in Eurasia Daniel Fried has held this position since 2005; he was actively involved in the process of negotiations after the August Russian-Georgian war. Fried was US chief negotiator at the Geneva peace talks which were part of the EU mediated ceasefire agreement between Georgia and Russia.
Fried has been described as the "hawk" of foreign policy by the New York Times. It has already been announced that Fried will take a high-ranking diplomatic position in the Guantanamo Closure programme, a post created by the Obama administration on Thursday to plead individual war on terror detainee cases in Europe and the Middle East.