Oriflame, a stable partner in good and bad times
By Nino Kalandarishvili
Monday, March 23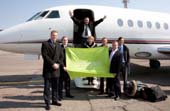 April 19, 2008 was a special day of celebration for famous Swedish company Oriflame. A private plane landed at Tbilisi airport carrying members of Oriflame's board, the Director and direct descendent of Oriflame's founder Alexander Af Jocknik, General Director of the company Magnus Brandstrom and Johan Rosenberg, Regional Director for the Commonwealth of Independent States and Baltic countries.
Levan Bokuchava, Country Manager of Oriflame Georgia and Armenia, opened a press conference by introducing the two main company projects in Georgia; the opening of the biggest warehouse in Tbilisi, which will provide Armenia and Azerbaijan with Oriflame cosmetic products, and the Oriflame Service Centre, which was officially opened by the company's representatives.
More than 800 people attended a concert at the Shota Rustaveli Academic Theatre which followed the press conference. Golden and Brilliant Directors' Awards were given to company representatives from Georgia, Armenia and Azerbaijan by Oriflame's senior management and entertainment was provided by a Tbilisi Rustaveli theatre company, a Georgian folk troupe, Georgian dancing ensemble Rustavi and the prominent Georgian singer Buba Kikabidze.
"2008 was a very successful year for Oriflame. Sale volume has reached 1.3 billion Euros, 2.8% more than last year. In 2009 we predict we will increase our profits by 10%," Magnus Brandstrom noted. Regional Director Johan Rosenberg stated, "Oriflame is a devoted partner of Georgia. 2008 was a record year for Oriflame. We have increased our income by approximately 50% in this region." "75,000 people are employed by our company in the Caucasus. We are stable partners in both good and bad times, and I look forward with hope," said Alexander Af Jocknik, the son of the founder of Oriflame
Five famous cosmetic brands are oriented on network marketing and among these Oriflame retains an important place. 11% of world cosmetic sales now come from direct marketing, 3% more than previously. That's why Oriflame continues its active work in direct selling in 61 countries and from time to time increases its number of consultants. Oriflame employs 25,000 people in Georgia, a substantial number in such a small country with a high unemployment rate.