The Dead Dreams of Saakashvili
By Temuri Kiguradze
Wednesday, March 25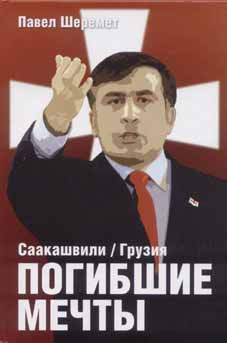 The life and career of Georgian President Mikheil Saakashvili have become the main subject of a new book by famous Russian journalist Pavel Sheremet. The book, entitled
Saakashvili/Georgia Dead Dreams
, was presented in Tbilisi on March 24.
The author states that he started working on the book last April with the goal of writing a "tourist guide to Georgia for Russian tourists" but when the Russian-Georgian war started he was obliged to start mentioning things which had nothing to do with sightseeing. "In writing this book I conducted numerous interviews with all the major Georgian politicians, including the President himself and his close allies like Vano Merabishvili and Giga Bokeria. I also spoke to opposition representatives such as Gachechiladze and Okruashvili," he added. Pavel Sheremet states that for him the most interesting person in Georgia is President Saakashvili. "He is a very bright personality; he is a talented young man who has climbed to the highest position in Georgian society with unprecedented support from the people and had the chance to become a second David the Builder, but because of some fatal mistake may unfortunately finish like Zviad Gamsakhurdia," says the author.
Sheremet is famous for his publications criticizing Belarusian President Alexander Lukashenko and his documentary films on the Chechen war. He has been the winner of, and nominee for, many journalism prizes, mostly in the sphere of investigative journalism. Commenting on his professional background the author insists that his book on Georgia is not dedicated to attacking the current Georgian regime. "Dead Dreams refers to the spoiled aspirations of Georgians to live in a peaceful and united country; Dead Dreams means the long friendship and cooperation between Russians and Georgians being damaged by the idiotic behaviour of certain politicians in both countries," says the journalist. "In fact this title was chosen after long discussion with our marketing managers and is designed to attract Russian readers," he added. Sheremet pointed out however that he has already received several negative comments from Georgian politicians about the book and warnings from Moscow as well. "In Georgia they consider me pro-Russian, in Russia they accuse me of supporting the Georgian regime," says the journalist, noting that "Many people in Russia warned me not to write a story based around Saakashvili, because Russians hate him now."
Pavel Sheremet was asked to comment on the current situation in Georgia. "After several interviews with the Georgian establishment I've realized that the weak point of the Tbilisi authorities is their extreme haughtiness and possibly over-simplistic view of global political processes," he said, adding that he is sure that there will be no further military confrontation between Georgian and Russia. "It seems that both sides are quite satisfied with the status quo. Moscow slams Saakashvili but in reality it's hard to imagine what the Kremlin will do if Saakashvili resigns, because this will mean some compromises will have to be made with a new Government of Georgia." Answering
The Messenger's
question about his perspective on Georgian-Russian relations, Sheremet said that after the August war Georgia lost many of the levers it could have used to make Russia compromise. "To restore relations with Russia, Tbilisi will have to find some new pressure levers," he said.
Saakashvili/Georgia Dead Dreams
, which is written in Russian, is soon to be put on public sale in Russia. Pavel Sheremet also hopes that Georgian distributors will be interested in providing it for Georgian readers.