Belarus President meets separatist leader
By Temuri Kiguradze
Wednesday, March 25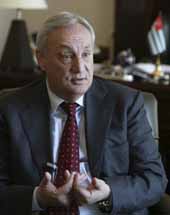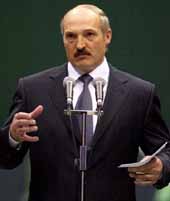 President of Belarus Alexander Lukashenko met de facto Abkhazian President Sergey Bagapsh on March 23 in Moscow. Lukashenko's Press Service states that sides discussed "economic" issues.
"We have a lot of topics to talk about. After any gaining of independence there are always a lot of issues to resolve. We are glad that, through the participation of Belarus, we together will be able to solve many of the problems existing in this region," said the Belarus leader, speaking to Baghapsh. He also noted that he "has discussed several problems connected with this region [Abkhazia] with the President of Russia." The de facto leader of the Georgian breakaway region thanked Lukashenko for the meeting and announced that Abkhazia "is ready to cooperate with Belarus on economic issues."
After its recognition of the Georgian breakaway regions of Abkhazia and South Ossetia as 'independent states' on August 26 the Russian Government appealed to its allies to support this action, which was strongly condemned by the international community. The only country which has agreed to recognize the separatist territories is Nicaragua. The Belarus leadership refused to take a concrete decision on this issue. President Lukashenko stated that the Parliament of the country should resolve this matter at a plenary session scheduled for April 2. However it is still not known whether Minsk wishes to recognize Sokhumi and Tskhinvali. After the Moscow meeting Alexander Lukashenko didn't make any statement about recognition, but it is known that before this meeting he met Russian President Dmitry Medvedev on March 19 and 21.
The international community has already appealed to the Belarus Government to refrain from recognizing the Georgian breakaway regions "If they [the Belarus authorities] recognize South Ossetia and Abkhazia," said Czech Foreign Minister Schwarzenberg in late February, "it would create a very, very difficult situation for Belarus, because Belarus would be out of the European consensus." "As you know, the EU didn't recognize their [Abkhazian and South Ossetian] independence and is not going to change this point of view. We hope that every country which cooperates with us will have the same position," stated General Secretary of the EU Council Javier Solana on March 16.
The Georgian side has stated that Moscow is putting pressure on Minsk. "Georgia understands that Belarus is under great pressure from Russia, because the Belarus economy is completely dependent on Russian gas. If Abkhazia and South Ossetia are recognized by the Belarus Parliament this will be evaluated by Georgia as an unfriendly step," said Georgian Deputy Foreign Minister Davit Jalagania, speaking at a press conference in Tbilisi in February.