"Meeting Place-Ukraine"
By Mzia Kupunia
Monday, March 30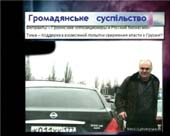 Former Parliament Speaker and now prominent opposition politician Nino Burjanadze and her husband, former Chief of the Border Police Badri Bitsadze, were in the political spotlight again last Friday.
Rustavi 2 TV
reported on March 27 that the Ukrainian internet magazine Grom has published an article "compromising" Bitsadze. The article, entitled "Meeting Place – Ukraine," said that on March 13 the former Parliament Speaker's husband met printing magnate Shalva Breus, a Georgian-born citizen of Russia, and reportedly discussed issues related to the April 9 demonstrations and plans to change the Government.
Rustavi 2
reported that according to Grom Bitsadze came to the agreed rendezvous point, the Velvet restaurant in Kiev, in a Nissan Patrol belonging to Teimuraz Mamtaji, a friend of Georgian-born crime boss Shakro Kalashov.
www.grom.in.ua
suggested that Kalashov is a confidant of the Russian Prime Minister and has been assigned to create ties with the Georgian opposition to "influence the April 9 rally."
On March 27 Bitsadze confirmed that he had met Breus in Kiev but denied they had spoken about the April 9 demonstrations. Bitsadze told jornalists he was in Kiev and met his friends, "but this does not prove that Russia is funding me or that I purchase arms with their money," Bitsadze said. "I have many friends in Ukraine, Germany and Russia. I meet them to talk about private issues. I cannot refuse to meet my friends because of politics," he added.
Bitsadze said he has a close friendship with Breus, but "I do not have such close relations with Breus as to have specially arranged a meeting date. We did not discuss April 9. He is not interested in politics and does not care about the April 9 rally," the former Border Police head said.
Georgian state officials have avoided commenting on the Ukrainian article in detail. National Movement MP Pavle Kublashvili said that for reasons of public interest politicians should make statements about whom, when and where they meet. "For me, as a representative of a Government, this is a minor issue. Our aim is, on the one hand, to guarantee any person's right to gather and express his own position even by demonstrations, and on the other to keep public order and avoid any kinds of provocations," Kublashvili said.
On Saturday President Saakashvili also commented on the information spread by www.grom.ua. He said people like Kalashov and Mamtaji, who seek "revenge," will not be able to achieve their goals in Georgia. "Today we have a completely different epoch in Georgia, it is not 1991," Saakashvili said.
The Ukrainian report comes after a tense week for Burjanadze's party. On March 23 Georgian law enforcers detained 9 people affiliated with her Democratic Movement-United Georgia on charges of purchasing illegal weapons. Later the Ministry of Internal Affairs released several videotapes, allegedly showing the members of Burjanadze's party buying firearms.
Meanwhile, 13 opposition parties, which are planning rallies on April 9 which will demand President Saakashvili's resignation, signed a Manifesto of Unity on March 27. "To save the country, it is necessary to make Mikheil Saakashvili resign and have early Presidential elections declared promptly," the Manifesto reads. "Only after this will it be possible to build a democratic, legal state, under the rule of law, with an independent and impartial judiciary, where the fundamental rights of every citizen will be protected," it states.
According to the document, the April 9 protest rally will be peaceful and carried out within the framework of the Constitution and will express "the will of the great majority of the country's population." "We believe that in the nearest future, as a result of wise, joint and targeted actions by the entire society and the support of the international community, our country will firmly embark on the road to building democracy," the Manifesto concludes.
While the majority of the opposition is belligerent, President Saakashvili has struck a more conciliatory tone. Speaking in the town of Abasha in Western Georgia at the opening a new road connecting the Samegrelo and Guria regions, the President said this is not the time for "radicalism" in Georgia, and called on society to hold a dialogue. "This is the time for unity," Saakashvili stated, adding that "we have built our statehood, we have created a strong state with strong institutions and now is not the time for destruction, now is the time to maintain what has already been built and build more."
Georgian news agency
Pirveli
reported on Sunday, citing "an informed source from the Georgian Parliament," that a video concerning the meeting between Breus and Bitsadze will be released in the near future.