LIGHTS OUT! Sheraton Metechi Palace Hotel Celebrates Earth Hour
Tuesday, March 31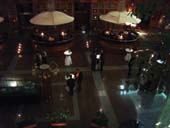 Starwood Hotels & Resorts around the globe observe environmental awareness event
On March 28 Sheraton Metechi Palace Hotel announced it will participate in Earth Hour, a global environmental awareness event organized by the World Wildlife Fund (WWF) on March 28, 2009 to send a powerful global message about environmental awareness and caring for the planet. Sheraton Metechi Palace Hotel will observe Earth Hour by taking energy-saving measures for one full hour, further underscoring Starwood Hotels & Resorts' commitment to environmental sustainability.
Earth Hour is drawing strong support from Starwood hotels around the globe and in Europe, Africa and the Middle East alone there are over 100 hotels participating.
Sheraton Metechi Palace Hotel took part in the global event with its guests. The Sheraton Metechi Palace Hotel took several measures such as turning off exterior signage lighting; dimming or turning off non-essential interior lighting and using candlelight in appropriate public areas such as restaurants and bars, guest rooms and the lobby. Hotel guests were informed of the event through in-room voicemail messages and guest room television messages and were invited to the special cocktail party dedicated to Earth Hour, where guest could enjoy live music, green cocktails, snacks and a cozy atmosphere with candles.
Hundreds more Starwood hotels around the world are coordinating supplementary awareness events such as walkathons in their local communities, unplugged candlelit public concerts and receptions for guests featuring signature green cocktails.
Starwood made history in 2006 when it launched Element Hotels, Starwood's green trailblazer, two now being open and five more slated to open in 2009. The brand will soon expand into the Europe, Africa & Middle East division with the recent signing of an agreement to establish an Element hotel in Abu Dhabi, United Arab Emirates. Across its entire portfolio, Starwood is rolling out initiatives that aim to conserve energy and water, reduce waste and enhance indoor environmental quality for Starwood guests and associates alike.
Earth Hour began as an awareness effort in Sydney, Australia in 2007 when more than two million homes, businesses, and the city's largest landmarks shut off their lights for one hour, resulting in a significant energy reduction across the city. Quickly evolving into a global phenomenon, Earth Hour drew an estimated 50 million people in 35 countries and 370 cities in 2008, and this year one billion homes, businesses and countries are expected to take part. For more information and a video on the genesis of Earth Hour visit
www.earthhour.org
.