US pledges to retrain the Georgian Army
By Etuna Tsotniashvili
Wednesday, April 1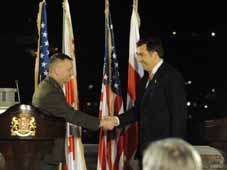 General James Cartwright, Vice Chairman of the Joint Chiefs of Staff, hailed the Georgian Army and said that cooperation with Georgia for the development of its military potential would continue. During a meeting with Georgian President Mikheil Saakashvili held on March 30 the US General said that partnership with Georgia was important not only for Georgia but the United States as well. He said he was impressed with this visit to Georgia, particularly his meeting with Georgian soldiers.
"I want to say that you have a very good army and we know what they have done. We are glad that we will continue to cooperate with them in the future as well. Our strategic partnership is very important," General Cartwright said.
Cartwright said that the United States will train the Georgian armed forces, with the main focus of the training being "the defence of Georgia." He highlighted that after the August war it became easier to understand the Georgian armed forces' training priorities and what new types of equipment were needed for defending the homeland.
At the joint briefing with President Saakashvili General Cartwright said that Georgia has a commitment to have peaceful relations with its neighbours. He added that Georgia also has obligations it must fulfil in order to join NATO. "So, based on the charter, the USA is ready to support Georgia and also help carry out reform of its armed forces," he said.
The Georgian President thanked the General and stated that the visit of such a high ranking US military officer "means that Georgia and the United States are moving to a completely new level, a higher level of cooperation in the military-political sphere."
"In the circumstances when 20% of the country's territory is occupied, the risk of further military action is high and provocations continue, in the circumstances, when the situation is difficult in the region as a whole, and no one should have any illusion about this, Georgia will continue creating modern, high level, much stronger armed forces, increasing their armaments, number of soldiers and personnel and, what is most important, increasing their level of training in order to defend our country more effectively," Saakashvili said.
Saakashvili stressed that an army is not created in three or four years and highlighted that the trainings carried out in previous years had not been for large-scale war but peacekeeping operations. "But now we are preparing qualitatively different armed forces," he said.
Saakashvili repeated that Georgia is ready to send its forces in Afghanistan and added that he has informed US President Barack Obama about this by his letter. On March 31 Georgian Foreign Minister Grigol Vashadze, who is visiting The Hague to attend a conference on Afghanistan, also stated that "Georgia has expressed its readiness to send a contingent to Afghanistan. We will confirm this at the conference," he added.