Abkhazia demands a separate UN mission
By Mzia Kupunia
Wednesday, April 1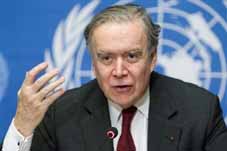 The de facto Abkhazian authorities have once more demanded the setting up of a separate UN Mission in Abkhazia to replace the United Nations Observer Mission in Georgia (UNOMIG) in the region and the restoration of the Chuburkhinji weekly negotiations. At a meeting with the Special Representatives of the OSCE, UN and EU, Co-Chairmen of Geneva talks Pierre Morel, Johan Verbeke and Charalampos Christopoulos on Monday, the de facto Abkhaz Foreign Minister Sergey Shamba said it is necessary to adopt a new UN mandate and make the Geneva consultations part of that mandate. He said the Abkhazian side considers the Geneva negotiations process "temporary."
"However if it turns out that the Geneva process is effective and crucial, then it will become necessary to try to take into account the proposals of the Abkhazian side in order to achieve real results there," news agency Apsnypress quoted the de facto Minister as saying. Shamba said the name of the mission is not a minor issue, it is a very important thing. "This is an element which reflects the essence of the whole problem," he told the representatives of the OSCE, UN and EU, adding that "setting up a new UN mandate will be a test of how relations are changing towards us." The Special Representative of the Secretary General of the UN, Johan Verbeke, said the name of the mission is a very important issue, "however, the decision on this issue should be made by the members of the UN Security Council."
The Co-Chairmen of the US, UN, OSCE and EU-mediated Geneva talks, which discuss issues of maintaining peace and security in the Caucasus region, arrived in Sokhumi to discuss the upcoming fifth round of the Geneva negotiations. The EU Special Representative Pierre Morel recalled the results of the fourth round of talks held in mid-February. The sides then agreed to work out a joint mechanism of accident prevention. Morel said it is necessary to hold a fifth round of discussions in mid-April and suggested that the incident prevention mechanism should already be implemented by that time, adding in the light of recent developments that "the sooner the mechanism starts working, the better."
Charalampos Christopoulos of the OSCE stated that it is very important to continue the Geneva consultations as a number of serious results had been achieved. Now it is important to move forward, Christopoulos said. Speaking to journalists after the meeting, the de facto Abkhaz Foreign Minister said the mechanisms laid down in Geneva could only be made to work if there is a new UN mandate. "We want to maintain the key role of the UN in this process," Shamba stated.
Meanwhile the de facto South Ossetian leaders have decided to let the Co-Chairs of Geneva talks enter Tskhinvali on OSCE vehicles. According to the Special Representative of the de facto South Ossetian President on Post-Conflict Regulation, Boris Chochiev, this decision has been made because the Ossetian side "realizes the importance of the discussions."
"However we have warned the representative of the UN, OSCE and EU that this will be their last visit to South Ossetia in the vehicles of OSCE observers, if the agreement on an OSCE mission to South Ossetia is not reached at the next round of talks in Geneva," news agency Osinform quoted Chochiev as saying.