UNDP and EU launch life repair programme
By Etuna Tsotniashvili
Wednesday, April 1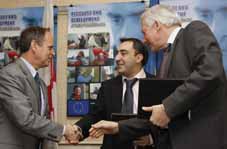 On March 31 the UN Development Programme officially launched an 18-month initiative in the Shida Kartli, Mtskheta-Mtianeti and Samegrelo regions of Georgia thanks to a EURO 4.4 million contribution from the EU.
The programme of vocational education, microfinance provision and the rehabilitation of infrastructure will be implemented in cooperation with the Ministry of Education and Science, Ministry of Economic Development and Ministry of Regional Development and Infrastructure of Georgia.
Robert Watkins, UNDP Resident Representative in Georgia, presented the new initiative to the Government and diplomatic representatives at the Tbilisi Marriott Hotel. He thanked the EU for its ongoing generosity and the Georgian Government for its active cooperation and highlighted that the main goal of the project is to make the lives of war-damaged people easier.
"Basically what the programme is trying to achieve is to ease the transition and give people access to livelihoods, which is done through vocational education training, provision of microfinance credits which allow small businesses to start up and the repair of much needed infrastructure, and in some cases the construction of new infrastructure, whether it be wells or irrigation channels or roads," Watkins stated. "The project's aim is to make it easier for people to start up their lives again and in many cases, through the vocational education programme, to enable them to start new careers. People who cannot return to their homes in the South Ossetia administrative region can now learn a new craft and a new kind of training that will help in the transition for themselves and the economy of the country," he added.
Watkins said that this programme is the link between post-conflict recovery and development which they hope will bring great benefit to the country. He stressed that Georgia is passing through a very difficult time at present, having a high level of unemployment, and the global financial and economic crisis will have an impact on the Georgian economy. He expressed his hope that this project will go some way to helping the individuals it targets and also the Georgian economy in its more macroeconomic aspect.
Speaking at the launch Ambassador Per Eklund, Head of the European Commission Delegation to Georgia, stated that, "I hope we contribute to reducing the effects of the war on people, as a part of the European Commission's support to Georgia following the August conflict. The European Union was very quick in mobilizing assistance to Georgia after last year's crisis. The EU continues to support Georgia in post-crisis recovery and development efforts. UNDP expertise and the EU financial assistance of EURO 4.4 million will be targeted at priority areas agreed with the Georgian Government," the Ambassador concluded.
Georgian PM Nika Gilauri expressed his gratitude for the new initiative and stated that it is one more piece of assistance resulting from the Brussels conference which is very important for Georgia and its population.