Public Defender releases new report
By Messenger Staff
Thursday, April 2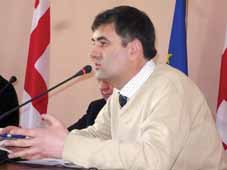 Georgian Public Defender Sozar Subari has criticized the Government for "oppressing the opposition forces." In his 1,155 page report on Georgia's human rights record in the second half of the 2008, submitted to the Georgian legislative body on March 31, the Ombudsman also slammed Parliament for not reacting to violations of human rights.
"This report once more lists the human rights violations which have been the subject of special concern and have not received a proper response from the respective agencies," Subari told journalists on March 31. The Ombudsman stressed the lack of checks and balances between different branches of the governing bodies. "Despite several statements, nothing has been done about limiting the President's rights and increasing the rights of Parliament," Subari states in the preface of his report. "It is especially alarming that no steps have been made to make the court system more independent," he continues. Subari notes that freedom of speech has been "seriously oppressed". The Ombudsman cites the reports of "authoritative" international organizations which said that Georgia had seen a "sharp retreat in this respect" in comparison to the previous reporting period.
The report notes that property rights infringement is still prevalent in Georgia. "Despite the fact that the authorities have "admitted" their "mistakes" in this sphere, nothing has been done to act on property rights violations cases. As regards the oppression of opposition politicians, Subari states that this is still happening, however, none of the cases of beating up or persecuting members and the supporters of the opposition have been investigated so far, "which is an obvious expression of the political will of the Government."
In the report Subari reiterates his demand to set up a Parliamentary Investigation Commission to look into the "secret meeting" on November 4, 2007, arranged by Interior Ministry and attended by former Defence Minister David Kezerashvili, former Chairman of the Constitutional Security Department Data Akhalaia and the General Prosecutor Zurab Adeishvili, where it is alleged that a plan for dispersing the protest rally on November 7, 2007 was worked out. "I am ready to present proofs related to the November 4 meeting to this Commission," Subari states. In conclusion, the report says that there is a "regrettable tendency" of the Georgian Parliament not to react to "systematic violations of human rights, and thus willingly or unwillingly encourage human rights violations."
Under Georgian legislation the Public Defender annually submits two reports to Parliament. Georgian state officials have not made any comments on the Ombudsman's new report so far.