Bank Republic receives USD 10 million from IFC
By Mzia Kupunia
Friday, April 3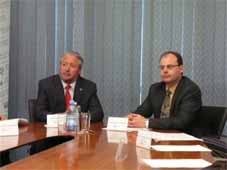 Bank Republic has received a USD 10 million trade finance guarantee from the International Finance Corporation (IFC), a member of the World Bank Group. The funding is designed to help Bank Republic finance the foreign trade transactions of local companies. As Bank Republic has joined the IFC Global Trade Finance Programme as an issuing bank, the IFC's guarantees will help Bank Republic finance the import and export operations of clients, including small and medium-sized enterprises, Chief Executive Officer of Bank Republic Gilbert Hie said at a special press conference on Thursday. According to Hie this will increase trade transactions by providing financing with enhanced flexibility and competitive pricing terms.
Hie noted that it has been several years since the Bank Republic and International Finance Corporation first established "successful" cooperation. "We will use the IFC's guarantee as additional leverage to improve trade finance activities in Georgia. We appreciate the strong support of IFC, particularly in the current financial environment," Hie said. "International trade is a very important sector for Georgia. If we want this country to have greater export capabilities we need to improve its flexibility," he added.
Thomas Lubeck, IFC Regional Head in the Caucasus, noted that by joining the Global Trade Finance Programme Bank Republic will be able to promote encouraging foreign trade in the region by giving opportunity to its clients to work in new markets. Lubeck said the investment is part of a broader programme that IFC has in Georgia to "keep the financial sector strong." "IFC has just increased the global programme's financing to USD 3 billion from USD 1 billion in response to the world financial crisis. We expect to invest over USD 200 million this year in the financial sector in Georgia. I also share Mr. Hie's optimism and enthusiasm for more business opportunities in this country," Lubeck noted.
The IFC Global Trade Finance Programme was launched in 2005. It supports trade with emerging markets worldwide and promotes the flow of goods and services to and from developing countries. IFC began working with Bank Republic in 2005 through IFC's Corporate Governance Project in Georgia. Over the past two years the IFC has invested about USD 42 million in Bank Republic to help expand the bank's lending programmes for small and medium-sized enterprises, mortgages and education.