Georgian monastics driven out of Abkhazia
By Temuri Kiguradze
Monday, April 6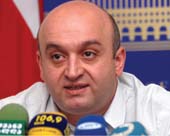 Seven Georgian monastics were forced to leave the territory of Abkhazia by separatist forces on April 2-3. Representatives of the breakaway region had accused them of "politicking."
The three monks and four nuns were from the Saint Giorgi Monastery in the village of Azhara, located in the Kodori Gorge, the only part of Abkhazia that was controlled by the central Georgian Government before the August Russian-Georgian conflict. When Georgian troops were driven out of the area the monastery and its residents stayed. "[After the August conflict] we proposed to the Georgian 'priests' that they accept the regulations of the Abkhazian Orthodox Church and continue to serve in Azhara, however they refused," stated the head of the so-called Abkhazian Eparchy Vissarion Aplua, as quoted by the Apsnypress news agency on April 3. "Instead of undertaking spiritual activities they were convincing residents of the [Kodori] Gorge that Abkhazia is Georgia. To prevent any kind of provocation we have decided to send them to Georgia so they can continue their service to the Georgian Church," said Aplua, adding that the monastics were occupied in "politicking not spiritual service."
The Abkhazian side denies that the monastics were subjected to any kind of physical abuse. "The priests stated that they don't recognize the Government of Abkhazia and the Abkhazian Church and that they obey only the Georgian Orthodox Church, so we have proposed to them that they return to its fold," said Sergey Jonua, the so-called Special Representative of the Abkhazian President in Kodori Gorge.
The Georgian Orthodox Church has confirmed the forced exile of the Georgian monks and nuns. They have already arrived in Tbilisi, where they met Georgian Patriarch Ilia II on April 5. Ilia II blessed them and expressed the hope that they will be able to return to their church soon. The Patriarch also ordained one of the ousted monks, Father Ioane, as an Archbishop. "There are people in Abkhazia today who have forgotten our kindness and my personal kindness and are oppressing Georgians. The monastics have been ousted from Abkhazia and I want to console them and tell them that Abkhazia is an indivisible part of Georgia and will never be separated from Georgia," Ilia II said in Tbilisi.
The Tbilisi-backed Abkhazian Government-in-Exile called this incident "outrageous." "This happens when the Abkhazian side is saying that it agrees to accept refugees and confirms this position at the Geneva negotiations. This fact clearly shows that the Abkhazian side is absolutely not ready to see refugees return to secure conditions," said the head of the Abkhazian de jure Government Malkhaz Akishbaia. He also promised to provide assistance to the nuns and monks from the Azhara monastery. "They will continue their service to the Georgian Church," he stated on April 5. The separatist authorities have already announced that the Georgian monks will be replaced by representatives of the unrecognized Abkhazian Orthodox Eparchy.
Abkhazia and South Ossetia are two Georgian breakaway regions who declared their independence from Georgia soon after the collapse of the Soviet Union. On August 26 2008, after a conflict with Georgia, the Russian Federation recognized the independence of the regions. This step was however condemned by the international community. The Abkhazian and South Ossetian churches also announced their "independence" and expressed a wish to join the Russian Orthodox Church. However the late Russian Patriarch Alexey II declined their request, recognizing Abkhazia and South Ossetia as "historic territories of the ancient Georgian Orthodox Church."