Prime Minister meets ICC-Georgia
Friday, April 10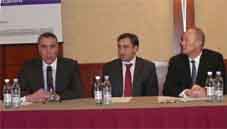 On April 8 2009 ICC-Georgia hosted Prime Minister Nika Gilauri, who presented to the business community the economic parameters for 2008 and the outlook for 2009.
"At present, we can firmly state that despite the international financial crisis and the unprecedented challenges that Georgia faced in 2008, the first quarter of 2009 showed very encouraging trends and results, confirming that Georgia is weathering the global economic storm safely and much better than many of our peer countries, and better than our own forecasts of four or five months ago," stated Prime Minister Gilauri, who emphasized the stability and liquidity of the banking sector, the stability of revenues, the satisfactory performances of the retail and real estate sectors and the positive outlook for FDI flow.
"We are glad that the country's economic parameters are sound and healthy despite the international financial crisis. With the business-friendly environment in Georgia and the continual dialogue and cooperation we have with the Government we are sure that the current challenges will have a contained impact," said ICC-Georgia's Chairman Fady Asly.
"Despite the difficulties that businesses are facing, we remain very confident in the future; we will remain competitive regionally and globally; we have overcome many hurdles in the past, and the current obstacles will be overcome as well. We only need stability and visibility. Political turmoil is untimely and counterproductive, and therefore there is no substitute for dialogue," added ICC's Chairman.
Through its SME Commission, ICC-Georgia is paying special attention to small and medium-sized enterprises to make sure that economic policy signals are received, and the problems faced by this section of the business community are communicated to the Government, tackled and solved properly.
The message given today by Prime Minister Gilauri and the position of ICC-Georgia will be disseminated to its membership, which includes seven business organizations and more than one hundred individual businesses. They will also be conveyed to all ICC national committees worldwide.
ICC-Georgia is the Georgian National Committee of the International Chamber of Commerce, a global business organization which unites hundreds of thousands of member companies from over 130 countries into a representative body which speaks with authority on behalf of businesses worldwide.