Statement from ICC-Georgia, the Georgian National Committee of the International Chamber of Commerce
Monday, April 13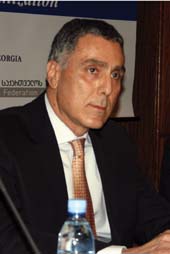 On April 10, 2009, in an interview with a Georgian television channel, one of the leaders of the "Joint Opposition", Mr. Irakli Batiashvili stated the following: "Every day he (President Saakashvili) stays in office will result into a permanent destabilization; no business shall operate and no Kopek shall flow into the country that will no longer be stable, this will result into the impoverishment of our citizens."
On March 31, 2009 in an open letter to the leaders of the opposition, ICC-Georgia had openly warned of the negative consequences of street protests on both business and economy and has called for dialog as the only constructive solution.
The business community that employs hundreds of thousands of citizens will not be taken hostage by any side for cheap political gains. Businesses are the backbone of the economy and the weakening of the business community will result in the loss of thousands of jobs and in the serious impoverishment of the country.
ICC-Georgia that unites more than one hundred businesses and several business organizations calls upon the "Joint Opposition" to act responsibly and to spare both businesses and the economy from further chaos in the best interest of every citizen of this country.