Opposition starts "new wave" of protests against Saakashvili
By Mzia Kupunia
Tuesday, April 14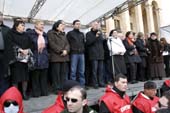 Thousands of people took to the streets of Tbilisi yesterday for a fifth day of demonstrations against President Saakashvili. Despite repeated requests from the Government for dialogue, the demand of the opposition remains unchanged: "Saakashvili must resign!" says a huge poster on the tribune in front of the Georgian Parliament, where the leaders of the opposition addressed some 25,000 people.
"We will sacrifice ourselves in order to make Saakashvili leave," opposition leader and former Presidential candidate Levan Gachechiladze told the crowd, while Salome Zourabichvili, the leader of the Way of Georgia, called on the demonstrators to come to the rally every day. "We will not get tired and will stand here until Saakashvili resigns. Our victory is very close. Come to the rally as if it is your job, this is a very honorable duty and it will bring us victory in the end," Zourabichvili said.
The opposition today rejected the proposal voiced by Georgian Parliament Speaker David Bakradze to create a coalition Government. "We do not want any positions, we do not Ministerial chairs. There is only one demand - Saakashvili's resignation. We do not agree with the idea of creating a coalition Government. We are not going to discuss any issue with them. All issues important for Georgia will be discussed after Saakashvili leaves his post, because this is your will," Eka Beselia told the demonstrators.
The protestors shared the mood of the opposition leaders. 70-year-old pensioner Klara, who refused to reveal her surname, said she had supported Saakashvili in 2003. "I stood in the rain and cold for two weeks at the Rose Revolution. I had great hopes, but Misha failed to meet my expectations. We are going one step back every day. I will stand here with these people," the 70-year-old said, waving a white flag with "Defend Georgia" written on it. "I like some things that he has done, it is very good that we have electricity, but he should understand that it is not only about electricity and stomachs," she added.
"I am ashamed of myself for supporting him a few years ago," 76-year-old pensioner Anzor Sigua said, " I do not believe that he will resign, though. I came here to give it a try, maybe if we try hard enough he will resign," he added.
A 19-year-old student of Caucasus Studies at Tbilisi State University, Konstantine Rekhviashvili, who was standing with four other students, said Saakashvili's main mistake was the war with Russia. "He has made a lot of mistakes and he should go," Rekhviashvili noted. "I think that more people should come here. I do not like the fact that former ruling party members are among the opposition leaders. Maybe people do not come out into the streets because there is nobody in the opposition whom they trust completely. I will come here every day, but others should come too," he said.
By 5 pm some of the demonstrators had moved to the Presidential Residence in Avlabari to start a 24 hour demonstration there, as announced by Levan Gachechiladze. The Georgian media has reported that special forces and water cannon have been seen in the yard of the Residence, however no patrol police or other law enforcers are standing outside.
Levan Gachechiladze announced one more initiative on Monday. He said that the opposition is going to turn Tbilisi into a "city of cells." He told demonstrators that several cells will be erected in the Tbilisi streets and "well-known politicians" will be placed in these cells. "We do not need to occupy any building. We should first return Tbilisi, then the villages and ultimately the whole of Georgia to the people," Gachechiladze said.
As the opposition starts what it calls a "new wave" of protests, the authorities insist on the "necessity of a dialogue," to which, according to them "there is no alternative". After a meeting with a group of analysts, Georgian Parliament Speaker David Bakradze said the Government is ready to start a dialogue on constitutional changes. "If trust is restored between the Government and the opposition, creating a coalition Government might come onto the agenda," Bakradze noted. "Strengthening Parliament is absolutely possible," he added. Analysts attending the meeting have also called on the sides to start a dialogue, saying that it is the only way to resolve the crisis.
Some analysts have suggested several possible developments. "The first option is calling Presidential elections. Saakashvili would not leave his office, he just would not participate in the elections. The second option is carrying out constitutional amendments and establishing a Parliamentary republic, and in this event Saakashvili might have the chance to participate in the elections," political commentator Mamuka Areshidze said.
Unlike the analysts, ordinary citizens think that negotiations would serve no purpose. "He should resign. Dialogue is just a way to buy time. The Government thinks that while it is talking about negotiating, the volume of protestors will decrease and the rallies will end," 70-year-old Levan Sigua told
The Messenger
.