Ex-PM abandons opposition rallies
By Messenger Staff
Tuesday, April 14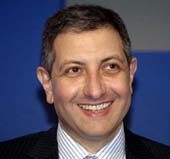 Leader of the Movement for Fair Georgia Zurab Noghaideli has decided to withdraw from the protest manifestations against President Mikheil Saakashvili.
"Our party actively participated in the manifestations in Tbilisi and Batumi. But now we have taken a different decision – I officially state that from 10 April we have decided not to participate in the manifestations," said Noghaideli in an interview with the Versia newspaper. Speaking about the reasons for his withdrawal Noghaideli quoted the "methods [of the opposition movement] which have been adopted since April 10." He says these methods "will not bring any results." He added that "I can't talk about any other reasons for now" but he promised to give a more detailed explanation "later."
Zurab Noghaideli was Minister of Finance in Eduard Shevardnadze's Government. After the Rose Revolution he joined the new governing team and became Prime Minister in 2006. After his resignation he decided to form an opposition party, accusing President Saakashvili of corruption and criticizing his internal and foreign policy.
Noghaideli stated that he was "very pleased" by the April 9 events. "The rallies both in Tbilisi and Batumi, where we organized it, were very important. This day has assured Mikheil Saakashvili that this country doesn't need his Presidency." Speaking after leaving the rally Noghaideli noted that "No one except the Georgian people should decide who will be the President of Georgia and when they have to be changed. But for this change society needs to be ready." Other representatives of the opposition have not commented on Noghaideli's statement yet. The rallies in front of Parliament and outside the Avlabari Presidential Residence have already been taking place for five days.