In the realm of the master
By Sopo Datishvili
Friday, April 17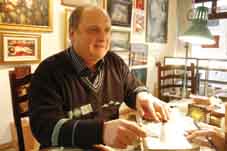 Besarion Darjania, a 52-year old master of cameo painting, is the founder of the Cameo Gallery in Old Tbilisi. It is his family business and exhibits the works of Darjania himself and paintings and enamel jewellery by different contemporary masters. You can also find ornamental swords and daggers there, made in the old Georgian tradition.
Darjania could hardly have imagined at the beginning of his career that one day the US Secretary of State would have become a patron of his gallery. He clearly remembers an evening four years ago when the door of his gallery opened and a foreign lady came in, liked a silver necklace and earrings in the Gallery and bought them. This was Condoleezza Rice, who was walking around the district during President George W. Bush's visit to Georgia. Darjania is proud when he sees Rice on TV wearing the necklace she bought from him, but he had a long and interesting career even before this.
The gallery was founded in 2005. When Darjania bought a property in the commercial area, several years ago, he did not think that this old district of Tbilisi could ever become as lively and fashionable as it is at present. The gallery is called Cameo because most of Besarion Darjania's own works are cameos, engraved on shells, amber, semiprecious stones and mammoth tusks.
In 1990 Besarion Darjania graduated from the Faculty of Arts and Humanities at Tbilisi State University. He received a diploma in cameo work, although the university didn't actually give diplomas in that particular field then. This was however his second degree, his first being in biology. Darjania's parents were scientists, and Darjania says that his first field of study was very helpful to him as he usually works on shells and tusks.
He clearly remembers making his first cameo at the age of 26. It was a gift for his girlfriend, who is now his wife. The cameo was made spontaneously for his beloved and is now a family heirloom. When his friends saw that he had a talent for this they presented him to Guram Gabashvili, the head of the National Creative Centre. He was there eight years and received the title Public Master, afterwards also joining the Artists' Union.
Besarion Darjania is especially proud of the fact that he is one of very few cameo masters in the world. In 2000 he won the Art and Education competition run by the American Embassy and spent four months of further study in the USA. After returning he found his name had been included in the Artists' Illustrated Encyclopedia published in the USA. Darjania says he is happy that his art gained Georgia a place in this encyclopedia and demonstrated that it was the mother country of a cameo master.
Darjania says the door of his gallery is open to all who are interested in cameo work. His first apprentices were homeless children, who were taught to work on cameos and enamels. Their classes were arranged with the help of the Women's International Organization and lasted a year. The gallery then offered lessons to everyone who wanted to learn how to make enamel accessories. "This option was more popular with beginners as working with enamel is much easier" Darjania explained. The students who finish their classes in Gallery Cameo are able to sell their works there. "Only four apprentices can attend classes at any one time and this makes learning quicker and easier," he added.
Darjania says that the main distinguishing feature of his gallery is that the items there are cheaper than in other places. This is mainly because he does not pay rent as the gallery is his property. Items generally cost from GEL 30 to GEL 300, with some even more. Darjania says that the prices depend on the complexity of the composition. "I'm always glad to hear that the client is happy with the price. We try to fulfill every wish of our clients even when this takes a lot of time and energy," he says. His clients are often foreign visitors interested in Georgian culture in general.
Every art master has a work especially dear to him. For Darjania it is a cameo of Jesus Christ engraved on a shell. He says that he always thought a shell was unsuitable for cameos, but one day he changed his mind and started engraving Jesus on it. The time passed unbelievably fast and he finished the work on the late evening of the same day, when such engravings can take weeks. "I was surprised that I hadn't even paused during the work. I liked the cameo very much and decided not to sell it," he said. Now the cameo of Jesus is exhibited in the gallery but is not for sale at any price.
Besarion Darjania says that the only disadvantage of producing and selling cameos is that he cannot arrange exhibitions of his work, as what he makes is sold. He has always dreamed of making a series of cameos on the theme of the Argonauts, but hasn't managed to get down to it yet. He would also like to present to the public cameos of Georgian kings. But Besarion Darjania goes on working, so who knows, maybe one day the dream of an exhibition of cameos of Georgian kings and Argonauts might become a reality.