NATO to conduct military exercises in Georgia
By Temuri Kiguradze
Friday, April 17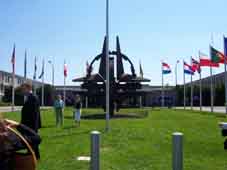 Representatives on 19 countries will participate in military training conducted by NATO in Georgia in May-June 2009.
The exercises, entitled Cooperative Longbow 09 – Cooperative Lancer 09, are "part of the NATO Partnership-for-Peace programme, which allows partner countries to build up an individual relationship with NATO," says the official statement of the organization published on April 15.
"The exercise will be conducted in Tbilisi, Georgia, with approximately 1,300 personnel from NATO and partner countries being deployed at the Vaziani training area, twenty kilometres east of Tbilisi. The scenario is based on a fictitious United Nations mandated, NATO-led crisis response operation. Lieutenant General Cayetano Miro Valls, Commander of the Allied Land Component Command in Madrid, will command the exercise," says the NATO Press Service.
The Russian side has already reacted to news of the planned exercises "With regard to Georgia's regime, NATO participation [in the exercise] will not send the right signal to those who honestly want to achieve stability in the Caucasus," said Russian Foreign Minister Sergey Lavrov, speaking to the Russian RIA-Novosti news agency in Yerevan on April 16. "I hope that NATO countries planning future interaction with Georgia within the Partnership for Peace programme will avoid taking steps that could nudge the Georgian regime into a feeling of being given licence and impunity," added the Minister. Lavrov noted that Russia strongly protests against the international community helping develop the Georgian military sector.
"No one will be using weapons or tanks [during the exercises]." NATO Press Secretary Robert Pshel told Russian news agency RIA Novosti on April 16. The exercises are "not purely NATO," he stated, but partner exercises within the framework of the Partnership for Peace programme. "They are open to all of NATO's partner countries, including Russia," said the NATO spokesperson.
Despite this announcement the Kremlin still has a negative attitude toward the exercises. Russia's representative at NATO, Dmitry Rogozin, has stated that the Russian side has sent an official note to NATO Secretary-General Jaap de Hoop Scheffer proposing that "the NATO military exercises in Georgia, planned for the near future, be postponed or cancelled." Robert Pshel has stated that he doesn't possess any information about a note and these exercises were planned back in 2008.
A total of 19 countries will participate in the military exercises: Albania, Armenia, Azerbaijan, Bosnia and Herzegovina, Canada, Croatia, the Czech Republic, Georgia, Hungary, Greece, Kazakhstan, Moldova, Serbia, Spain, Macedonia, Turkey, the United Arab Emirates, the United Kingdom and the U.S.