Abkhazia and South Ossetia protest against NATO exercises
By Temuri Kiguradze
Tuesday, April 21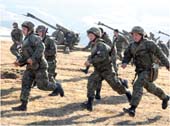 The Georgian breakaway regions of Abkhazia and South Ossetia may conduct their own military trainings in response to NATO exercises in Georgia planned for May-June 2009.
Leader of separatist Abkhazia Sergey Bagapsh has stated that NATO exercises Cooperative Longbow 09/Cooperative Lancer 09 will "definitely not serve to stabilize the situation in the South Caucasus." Speaking on April 17 Bagapsh noted that Abkhazia and Russia will "monitor the situation concerning NATO trainings."
Bagapsh's statement echoes that of Russian President Dmitry Medvedev, who announced that "[the NATO exercises] will not add positive emotions to the peoples of Abkhazia and South Ossetia because these kind of actions are designed to demonstrate military power and grow muscles. In a situation in which everything is tense this decision seems non-cooperative."
In protest against the NATO trainings in Georgia, which according to NATO spokesperson Robert Pshel will be conducted without weapons or equipment, Russia continues to increase its military presence near the administrative border of the Georgian breakaway regions. Though talking about Georgia flexing its "muscles" the Kremlin admits that additional Russian tanks, soldiers and weapons have appeared in Abkhazia and South Ossetia. These actions are "purely demonstrative and preventive," Andrei Nesterenko, a spokesman for the Russian Foreign Ministry, has stated.
"Having precise information about the high probability of provocative actions being taken against Abkhazia and South Ossetia in this period, the Russian side has taken preventative measures to ensure the security of these republics and our servicemen stationed there. They [these measures] are not something extraordinary and are being implemented as part of planned complex exercises underway in [Russia's] North Caucasian Military District, South Ossetia and Abkhazia and its adjacent territorial waters in the Black Sea," added Nesterenko. He also noted that the additional weapons should help Russia "prevent" Georgia from starting a war. "As experience shows, such moves are helpful when you have to deal with countries trying to regain what they consider to be their territory," he added. "I want to stress that as soon as their mission is accomplished all these military units will return to their places of permanent location," Nesterenko said.
The Georgian side has called these statements "provocational" and "cynical." "The statements made recently by high-ranking Russian officials, including representatives of the Russian Foreign Ministry, regarding NATO's multinational military exercises which are planned to take place on the territory of Georgia in May provide ample evidence of what Russia's policy is. What stands behind all these statements is yet another undisguised Russian attempt to impose its will on the international community and interfere in the internal affairs of the sovereign state of Georgia, thus violating most flagrantly the universally recognized norms and principles of International Law," said the Georgian Foreign Ministry on April 18.
Tbilisi also said that "Russia openly declares its plan to continue to pursue its forceful policy against Georgia. In his statement of 16 April, the Spokesman of the Russian Foreign Ministry explicitly confirmed Russia's "demonstrative" military build-up on the occupied territories of Georgia, but cynically shifted the blame for instigating provocations onto the Georgian side."