OSCE observers detained and released in South Ossetia
By Temuri Kiguradze
Wednesday, April 22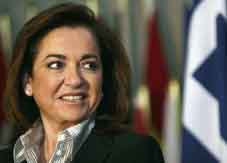 Two arrested OSCE observers were released by South Ossetian separatist forces on April 21. They are reported to have promptly returned to their permanent bases on Georgian-controlled territory.
According to representatives of de facto South Ossetian structures the observers were arrested for "illegally crossing the Georgian-South Ossetian border." "While travelling by vehicle, the observers penetrated 150-200 metres into South Ossetian territory," stated a spokesperson for the Tskhinvali region separatist troops. The separatist authorities stated that the observers were released after they had "admitted their mistake" and "excused themselves" for it. "This action of the OSCE was provocative," stated the leader of the South Ossetia separatists Eduard Kokoity, as quoted by the Russian
Interfax
news agency.
The OSCE Chairperson-in-Office, Greek Foreign Minister Dora Bakoyannis, stated that the detention of the observers was "wholly unacceptable." "I am relieved that the two Military Monitoring Officers have been freed but their detention was wholly unacceptable and unnecessarily added to tensions in the region," Bakoyannis said, as quoted on the OSCE official webpage on April 21. "It is crucial that all parties act constructively to contribute to security. This includes respecting the mandate, work and diplomatic immunity of the OSCE's Military Monitoring Officers," she added, noting that "This latest incident underlines, once more, the importance of defining the framework that will allow the unhindered monitoring of the August conflict zone. The latest proposals of the Greek Chairmanship provide the framework for a monitoring operation which will be operationally sound and meaningful, as well as safe for the OSCE Officers."
OSCE military observers have been conducting a mission in Georgia since 1992 and have actively participated in peace talks in South Ossetia. However after the August 2008 conflict the separatist authorities prohibited OSCE observers from entering the territory controlled by their troops. This prohibition was supported by Russia, which subsequently vetoed the prolongation of the mission.
This is not the first time South Ossetian separatists have detained OSCE military observers. On February 10 2008, their armed forces arrested two other observers on the same charge of "illegal crossing of the border." Foreign Minister Bakoyannis stated then that she was "deeply concerned by this incident, which adds to existing tensions."